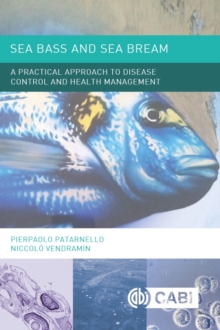 Sea Bass and Sea Bream : A Practical Approach to Disease Control and Health Management
Hardback
Description
The aim of this book is to provide practical advice and awareness of health management and disease control in sea bass and sea bream, the most widely-farmed fish in the Mediterranean region.
The prevention and control of the main pathologies affecting intensively-cultured marine fish species are of paramount importance.
Farmed sea bass and sea bream are high-value fish, making significant contributions to the economies of many countries.
This important book gives particular emphasis to rapid diagnosis and response to the most dangerous pathologies, which can cause severe economic losses in affected fish farms.Key features of the book Sea Bass and Sea Bream include: A clear layout and practical approach: easy to understand and implement; colour photographs of the main diseases and parasites affecting sea bass and sea bream; a combination of the authors' wide field-based experience in the diagnosis of fish diseases, with knowledge from a major fish diseases reference laboratory.This book is an essential purchase for fish farm operatives and managers, veterinarians, fish health managers and inspectors, consultants, fish pathologists, microbiologists and parasitologists.Personnel within companies supplying the aquaculture industry with pharmaceuticals and vaccines, feed, and technical equipment will find a wealth of useful information within this book. Libraries in all universities and establishments teaching and researching aquaculture, veterinary studies, fish biology, microbiology, pathology and parasitology should have copies of this important book on their shelves.
Information
Format: Hardback
Pages: 140 pages
Publisher: 5m Publishing
Publication Date: 08/09/2017
ISBN: 9781910455791