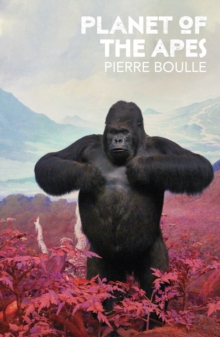 Planet of the Apes
Paperback
Description
In a spaceship that can travel at the speed of light, Ulysse, a journalist, sets off from Earth for the nearest solar system.
He finds there a planet which resembles his own, but on Soror humans behave like animals, and are hunted by a civilised race of primates.
Captured and sent to a research facility, Ulysse must convince the apes of their mutual origins.
But such revelations will have always been greeted by prejudice and fear...
Information
Format: Paperback
Pages: 208 pages
Publisher: Vintage Publishing
Publication Date: 01/05/2011
ISBN: 9780099529040
Free Home Delivery
on all orders
Pick up orders
from local bookshops
Reviews
Showing 1 - 1 of 1 reviews.
Review by AHS-Wolfy
16/06/2015
Young journalist Ulysse Mérou accompanies one of the most brilliant men of his generation on a voyage of discovery across space towards the Betelgeuse star system. Upon arrival they locate a planet so akin to Earth that they name it Soror (Latin for sister). Shortly after landing, they discover a group of humans who are so animalistic in nature it is scary to behold. Taken in by the humans they quickly discover a more intelligent species when their group is rounded up in a hunt by a bunch of gorillas and chimpanzees. While some are killed for sport others, including Mérou, are taken captive and he soon finds himself ensconced as lead specimen at a laboratory. Subjected to tests of a Pavlovian nature, Mérou quickly convinces the lead scientist, a chimpanzee called Zira, of his intelligence and that he is unlike any of her previous experimental lab-rats. Together with her partner Cornelius they then must convince the rest of the monkey hierarchy of this astounding discovery. What effect will this have on the ape world and what are the ramifications of their own origins?The basic outline of the story will be familiar to many through the various films. A lot of these movies represent portions of the book but none are quite representative of the whole. The character of Mérou, for example, is a lot more accepting than that of old Chuck. The whole story has a more intellectual than militaristic approach and examines such subjects as race, animal rights and social order. It is more dystopian satire than hard science fiction and while there is a lack of depth to the characters it really didn't affect my enjoyment of the tale.