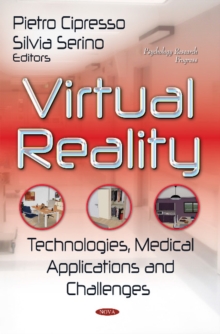 Virtual Reality : Technologies, Medical Applications & Challenges
Hardback
Description
One of the most amazing capacities of the human mind is its ability to go beyond its boundaries.
The well-known example of the "blind man" by Gregory Bateson helps us understand how our mind is able to expand its potentiality thanks to the use of a tool.
This famous example demonstrates two specific features that characterize the relationship between the human mind and the use of tool.
From a neuropsychological point of view, the tool is integrated in near space, extending it to the end point of the instrument.
From a phenomenological point of view, we are present in the tool because we can use it in an intuitive way to realize our intentions.
As Riva and Mantovani suggested, there is also another type of relationship between mind and technology, namely the second-order mediated action.
In this case, the subject uses the body to control a distal tool that controls a different one to exert an action upon an external object.
An example of a second-order mediated action is what happens with Virtual Reality (VR): I use my body to move an avatar (a distal tool) to exert an action upon an external object (a virtual environment).
On one side, the outcome of this process further extends the space of action.
From an experiential viewpoint, when interacting in a virtual space, we are also present in the distal virtual environment.
On these theoretical bases, it is clear what makes VR development distinctively important is that it represents more than a simple technology in different domains of human society.
In recent years, the field of VR has grown immensely.
Practical applications for the use of this advanced technology encompasses many fields, from personnel training supported by interactive 3D images in industrial centers, to the use of interactive virtual environments for marketing purposes.
One of the newest fields to benefit from the advances in VR technology is medicine and healthcare.
Impressive advances in technology, coupled with a reduction in the economic costs have supported the development of more usable, useful, and accessible VR systems that can uniquely target a range of physical, psychological, and cognitive clinical targets and research questions.
The aim of the book Virtual Reality-Technologies, Medical Applications, and Challenges is twofold: (1) to provide a critical overview of the most interesting medical applications of VR technologies and (2) to reflect on the future challenges in this growing field.
Information
Format: Hardback
Pages: 321 pages
Publisher: Nova Science Publishers Inc
Publication Date: 01/12/2014
Category: Psychology
ISBN: 9781633219335
Free Home Delivery
on all orders
Pick up orders
from local bookshops