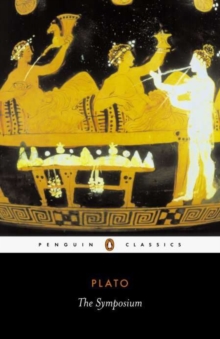 Description
Unfolding in an informal setting, Plato's The Symposium is a powerful discussion on the nature of love, translated from the Greek with notes and an introduction by Christopher Gill in Penguin Classics.In the course of a lively drinking party, a group of Athenian intellectuals exchange views on eros, or desire.
From their conversation emerge a series of subtle reflections on gender roles, sex in society and the sublimation of basic human instincts.
The discussion culminates in a radical challenge to conventional views by Plato's mentor, Socrates, who advocates transcendence through spiritual love.
The Symposium is a deft interweaving of different viewpoints and ideas about the nature of love - as a response to beauty, a cosmic force, a motive for social action and as a means of ethical education.Christopher Gill's translation retains all the drama and humour of Plato's language, bringing the historical figures to life.
His introduction discusses aspects of classical Athenian life shown in The Symposium and provides thoughtful examinations of the individual speeches.Plato (c.427-347 BC) stands with Socrates and Aristotle as one of the shapers of the whole intellectual tradition of the West.
He founded the Academy in Athens, the first permanent institution devoted to philosophical research and teaching, and the prototype of all Western universities.If you enjoyed The Symposium, you might like Aristotle's Poetics, also available in Penguin Classics.'Translated in bright modern English by Christopher Gill'Peter Stothard, The Times
Other Formats
Paperback from £3.65
EPUB from £3.49
Free Home Delivery
on all orders
Pick up orders
from local bookshops