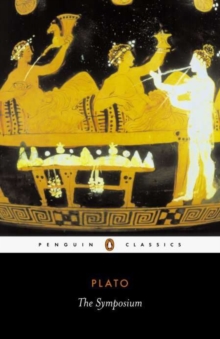 Description
Unfolding in an informal setting, Plato's The Symposium is a powerful discussion on the nature of love, translated from the Greek with notes and an introduction by Christopher Gill in Penguin Classics.In the course of a lively drinking party, a group of Athenian intellectuals exchange views on eros, or desire.
From their conversation emerge a series of subtle reflections on gender roles, sex in society and the sublimation of basic human instincts.
The discussion culminates in a radical challenge to conventional views by Plato's mentor, Socrates, who advocates transcendence through spiritual love.
The Symposium is a deft interweaving of different viewpoints and ideas about the nature of love - as a response to beauty, a cosmic force, a motive for social action and as a means of ethical education.Christopher Gill's translation retains all the drama and humour of Plato's language, bringing the historical figures to life.
His introduction discusses aspects of classical Athenian life shown in The Symposium and provides thoughtful examinations of the individual speeches.Plato (c.427-347 BC) stands with Socrates and Aristotle as one of the shapers of the whole intellectual tradition of the West.
He founded the Academy in Athens, the first permanent institution devoted to philosophical research and teaching, and the prototype of all Western universities.If you enjoyed The Symposium, you might like Aristotle's Poetics, also available in Penguin Classics.'Translated in bright modern English by Christopher Gill'Peter Stothard, The Times
Other Formats
Paperback from £3.65
EPUB from £3.49
PDF from £10.71
Free Home Delivery
on all orders
Pick up orders
from local bookshops
Reviews
Showing 1 - 5 of 6 reviews.
Previous | Next
Review by selfcallednowhere
16/06/2015
Entertaining and thought-provoking, although it did get a little confusing toward the end.
Review by gillis.sarah
16/06/2015
This is the first book I've read by Plato, and I really enjoyed it. I had to read it for my English class, and I was really surprised at how funny it was. It also gave great insight on the meaning of love and its merits.
Review by blake.rosser
16/06/2015
Starts out slow, with mostly irrelevant speeches on the nature of Love. The first half or so is remarkable just for the interesting description it gives of Ancient Greek homosexual practices. It gets much more interesting once Socrates takes the floor, immediately ripping the false rhetoric of the hypocritical sophists in favor of Truth. His theory of love is interesting but is not at all what we think of as romantic love. . . it is more like love of truth/beauty/god and culminates in a mystical nirvana-like experience for the true lovers. The most interesting part of the dialogue comes at the very end, when the drunken Alcibiades crashes the party and gives a speech on Socrates, which is far more revealing of Socrates the Man than any other Platonic dialogue I've ever read. Regardless of what you think of this dialogue overall, I think it´s worth the read just for the last few pages of historical description. And regardless of how you feel about Plato perverting Socrates' teachings for his own political purposes, the <u>Symposium</u> proves that he truly admired his mentor as possibly the greatest man who had ever lived.
Review by Benedict8
16/06/2015
So Plato, the pillar of philosophy in Western Civilization, is an enthusiastic pederast, a lover of boys. Nothing subtle here.
Review by waelrammo
16/06/2015
This one is soooo much fun.