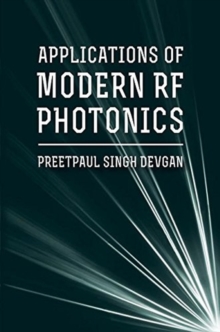 Applications for Modern RF Photonics
Hardback
Description
The book begins with a brief history of RF photonics, but the main focus is on the advantages of photonics versus electronics.
Signal processing is a general term which incorporates techniques to address a broad range of signals, and while these types of applications have traditionally been served by electronic means, the need to access higher frequencies and wider bandwidths has pushed the research forward.
The majority of the book contains in-depth reviews of different analogue signal processing systems that are currently used, such as RF down conversion, analogue to digital conversion, RF oscillators and frequency identification, and their relation to a demonstration architecture that shows how these systems can be used together.
It is the first book on the market to cover all the various applications for analogue photonic systems in one place. While the book covers the fundamentals of RF photonics and the basic terminology, it is more practical and application-centric than previously published titles.
It strives to answer questions like when to use an RF photonic solution versus an electronic, how to design an RF photonic down converter and how to use different modulation formats for different applications.
The book concludes with a look at integrated photonic structures as the future for the systems and modern implementations.
From an audience perspective, the book should enable the reader to evaluate RF photonic systems for their own needs and design new systems.
Information
Format: Hardback
Pages: 236 pages
Publisher: Artech House Publishers
Publication Date: 28/02/2018
Category: Electronics engineering
ISBN: 9781630811594
Free Home Delivery
on all orders
Pick up orders
from local bookshops