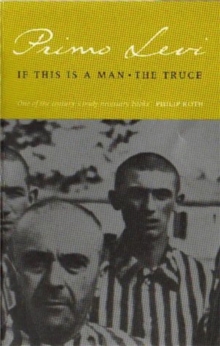 If This is a Man/The Truce
Paperback
Description
With the moral stamina and intellectual pose of a twentieth-century Titan, this slightly built, duitful, unassuming chemist set out systematically to remember the German hell on earth, steadfastly to think it through, and then to render it comprehensible in lucid, unpretentious prose. He was profoundly in touch with the minutest workings of the most endearing human events and with the most contempible. What has survived in Levi's writing isn't just his memory of the unbearable, but also, in THE PERIODIC TABLE and THE WRENCH, his delight in what made the world exquisite to him. He was himself a "magically endearing man, the most delicately forceful enchanter I've ever known" - PHILIP ROTH
Information
Format: Paperback
Pages: 400 pages
Publisher: Little, Brown Book Group
Publication Date: 01/01/1988
Category: Autobiography: general
ISBN: 9780349100135
Free Home Delivery
on all orders
Pick up orders
from local bookshops
Reviews
Showing 1 - 5 of 6 reviews.
Previous | Next
Review by withnail67
16/06/2015
One of the great accounts of inhumanity and triumph of the human spirit. The q & a in this edition are especially valued when I teach this book.
Review by herschelian
16/06/2015
Primo Levi was an Italian Jewish chemist who was taken by the Nazis. He survived the Holocaust to speak and write of his experiences. A man of moral stamina and intellectual poise his books should be read every generation.
Review by annbury
16/06/2015
Primo Levi was a 24 year old Italian Jew when he was sent to Auschwitz in February of 1944, with 650 other Italian Jews. He survived there for almost a year: in January of 1945, the camp was abandoned by the Germans, and shortly thereafter the Red Army liberated the camp. Only 20 others in his group survived with him. This book records his experiences in Auschwitz in clear, measured, and horrifyingly evocative prose. The camp was designed to grind all self-respect, all morality, all honor and all love out of its inmates. Amazingly, given the constant cruelty and deprivation to which the inmates were subjected, it did not always succeed. Levi survived because another man brought him soup every day, without thought of gain: Levi says of him "This was a man". So too was Levi, who retained the ability to think of others throughout his ordeal. This is a very hard book to read, but it should be read. It shows vividly what is worst about humanity, and also shows how goodness can -- occasionally -- survive that worst.
Review by HadriantheBlind
16/06/2015
How could this be anything but harrowing? And yet the author has survived, kept some portion of humanity about him, the tiniest shred. Necessary.
Review by shirleybell
16/06/2015
I'm so glad I read this, and yet it's hard to say I "enjoyed" it, due to the subject matter, however, what I can say is this book is an important one to read, as it tells a different story from that which we usually hear about life and death in the concentration camps. Primo Levi survived 11 months and this book explains just what he had to do in order to survive, and his long journey home after the war had ended. I learned so much from reading this, which I believe was the author's intention.