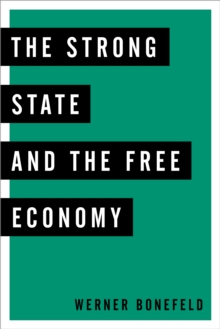 The Strong State and the Free Economy
Paperback / softback
Description
German ordoliberalism originated at the end of the Weimar Republic (1918-1933) in a context of hyper-inflation, depression, mass unemployment and social unrest.
For ordoliberalism, a free economy is premised on a sound political, legal, social and moral framework to secure its cohesion.
The role of the state is to ensure a liberal economic order. Ordoliberalism is a contested account of post-neoliberal political economy: some argue that it offers a more restrained and socially just market order; others, in complete contrast, that is a form of authoritarian liberalism and that it is the theoretical foundation for the austerity politics that the EU has actively promoted in recent years.
Foucault discusses ordoliberalism at length in The Birth of Biopolitics, and Bonefeld's book provides a thought-provoking companion to those lectures by offering a more comprehensive investigation of the theoretical foundation of ordoliberal thought and its historical and theoretical contexts.
Information
Format: Paperback / softback
Pages: 210 pages
Publisher: Rowman & Littlefield International
Publication Date: 09/05/2017
ISBN: 9781783486281
Free Home Delivery
on all orders
Pick up orders
from local bookshops
Also by Prof. Werner Bonefeld | View all