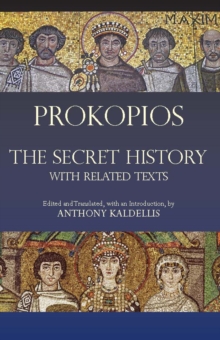 The Secret History : with Related Texts
Paperback / softback
Description
By exposing the perversion, repression, corruption, and injustice at the heart of Justinian's regime, Prokopios' The Secret History destroyed forever that emperor's reputation as the great and benevolent ruler of a vast Byzantine state.
Faithfully rendered here in blunt and idiomatic English, Prokopios' tell-all is as shocking today as it was in the sixth century.
Kaldellis' substantial Introduction addresses, among other topics, the historical background to The Secret History ; Prokopios' literary style and major themes; and the relationships between Prokopios, Justinian, and Empress Theodora.
Maps, genealogies, a glossary, and a selection of related texts (including excerpts from Prokopios' Wars and Buildings and several contemporary documents) enhance and support the reading of this scandalous and suspenseful book.
Information
Format: Paperback / softback
Pages: 276 pages
Publisher: Hackett Publishing Co, Inc
Publication Date: 15/03/2010
Category: European history
ISBN: 9781603841801