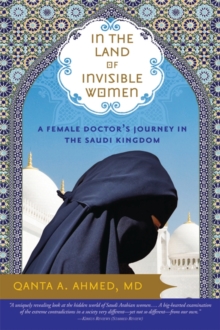 In the Land of Invisible Women
Paperback
Description
"In this stunningly written book, a Western trained Muslim doctor brings alive what it means for a woman to live in the Saudi Kingdom.
I've rarely experienced so vividly the shunning and shaming, racism and anti-Semitism, but the surprise is how Dr. Ahmed also finds tenderness at the tattered edges of extremism, and a life-changing pilgrimage back to her Muslim faith." - Gail Sheehy The decisions that change your life are often the most impulsive ones.
Unexpectedly denied a visa to remain in the United States, Qanta Ahmed, a young British Muslim doctor, becomes an outcast in motion.
On a whim, she accepts an exciting position in Saudi Arabia.
This is not just a new job; this is a chance at adventure in an exotic land she thinks she understands, a place she hopes she will belong.
What she discovers is vastly different. The Kingdom is a world apart, a land of unparralled contrast.
She finds rejection and scorn in the places she believed would most embrace her, but also humor, honesty, loyalty and love. And for Qanta, more than anything, it is a land of opportunity.
A place where she discovers what it takes for one woman to recreate herself in the land of invisible women.
Information
Format: Paperback
Pages: 276 pages
Publisher: Sourcebooks, Inc
Publication Date: 01/09/2008
Category: Travel writing
ISBN: 9781402210877
Free Home Delivery
on all orders
Pick up orders
from local bookshops
Reviews
Showing 1 - 5 of 47 reviews.
Previous | Next
Review by schmadeke
16/06/2015
In the Land of Invisible Women, Qanta Ahmed's memoir of the two years she spent as an ICU doctor in Saudi Arabia, provides an intimate glimpse into Saudi culture. Thanks to her inquisitive nature and eye for detail, she was able to write a telling memoir about an extremely reserved society. Ahmed covers everything, from dating (or the lack thereof) and marriage, to medicine, to the practice of Islam - all in vivid detail. Her descriptions of her experience in Saudi Arabia often seem paradoxical. Throughout the book you get a feel for the alternate confusion, elation, and disillusionment the author felt as an ex-patriate in the Saudi kingdom. Best of all, you will feel as if you are right there with her, viewing the country through her eyes.Ahmed wasn't particularly dedicated to her faith prior to her stay in Saudi Arabia. While there, however, she embraced Islam in a new way and in her memoir she shares her religion with the reader, which was very enlightening to me. It didn't feel preachy, just informative. All religion is nuanced and varied upon closer inspection and Islam is no different. The form embraced by Ahmed felt liberal and progressive, and according to her, that is the true Islam.My only complaint about this book is that it could have used a little more editing. There are several grammatical errors and inconsistencies. Ahmed dedicates nearly 100 pages to a description of her participation in Hajj, an important rite of passage in Islam, when it could have been covered in half that. While frustrating at times, this did not keep me from thoroughly enjoying the book. I've never looked at Iran in the same way since reading Elaine Sciolino's Persian Mirrors, and I now feel the same about Saudi Arabia. After reading Qanta Ahmed's intimate observations of daily life in the Saudi kingdom, and her descriptions of the people she came to know while living there, I feel as if I've looked inside a book that I previously judged only by its cover.
Review by itbgc
16/06/2015
This is an excellent book which reveals the diversity of thought and ways of living among those who call themselves Muslims. Written in a friendly tone, this book helped me picture what life is like for contemporary women of Saudi Arabia. I felt heartbroken for the Saudi people living under the cruel oppression of Wahhabi extremism but was happy to learn that courageous women like Maha are tirelessly and patiently working to help bring about desperately needed changes for their country. May they find success beyond their wildest dreams!
Review by memasmb
16/06/2015
This book was received from LibraryThing under the Early Reviewers program. The story begins with Qanta Ahmed, a British-born physician who has spent several years in New York training in her field. When she is denied an extension of her American visa, Ahmed accepts a two year temporary position in a royal hospital in Saudi Arabia. Even though Ahmed was raised in the Muslim religion by her Pakistani parents, she is not prepared for the world of repression that women must live under in Saudi. Right from the start, she must dress in a head-to-toe black shroud (abbayah) and be escorted from the airport by a male chaperone. She is exposed to the authority of the religious police (mutawaeen), the extreme lifestyles of the Saudi women and men, the separation of men and women in this culture. Reading about her hajj or her pilgrimage to Mecca, which every Muslim is obligated to do at least once, was an eye opening adventure for me. I continued to follow online each of the places she visited and viewed photos of Muslim participants circling the famous Ka'aba. I understood why she was draw closer to her faith during her stay in the Kingdom.As 9/11 takes place when Ahmed is in Saudi, she is shocked into the realization that her fellow colleagues are overjoyed about this tragedy and learns that maybe some Saudis are responsible. Qanta was further distraught when colleagues she considers her friends make vicious anti-Semitic comments about Jews killed in the Twin Towers. She learns that even though some of her fellow medical associates were trained by Jewish doctors, they still consider the rest of the Jewish race as vile and hate their (Israel's) handling of Palestinians.This book appealed to me because the author was honest and fore right in expressing her feelings about the unfamiliar life she was forced to live during her two years in Saudi Arabia. Her pilgrimage to Mecca was the most interesting section of the narrative. As she states in the afterword, many of the rules for women have been eased under the new King.
Review by pensivepoet
16/06/2015
A guide often accompanies a journey into foreign lands. The guide in this case is Dr.Ahmed, an individual of Pakistani descent cultured in the US and Britain, transplanted for working purposes into Saudi Arabia. This book encompasses her spiritual evolution, feminist-ic concerns with the restrictive culture, and experiences as a female doctor within that restrictive culture. Dr Ahmed's book allows us into the Saudi/Muslim world through a perspective that is both insider and outsider. "In the Land of Invisible Women: A Female Doctor's Journey in the Saudi Kingdom" is neither entirely medical narrative nor feminist memoir. This book represents a cornucopia of intersections between immigrant/cultural studies, medical humanities, religious studies and the representation of women's varied lives. This book could be widely contributory to courses in women's studies, medical humanities or cross-cultural studies. But beyond any academic dissections and applications it remains, primarily, the tale of one woman's journey. This is both a strength and weakness of the book. There is strength in Dr. Ahmed's narrative serving as an anchor in the waves of new cultural information those of us unfamiliar with Islam will be reading. Weakness exists in the times the narrative does not culminate in any definitive takeaway point; often seeming disjointed. Likely, this is why it is referred to as a "journey". As a collection of cross-cultural experience the book succeeds. But if a reader is looking for a transformative experience tale that builds to an epiphany, this is not the book. Through Hajj the author seems detached, more concerned with the perceptions of others than her spiritual experience. Although, it should be noted a particular strength of her narrative is continual ability to understand the cultural view of all parties involved in any given situation. Linguistically, there are few salient moments of imagery. Often, when describing people, the tonality best approximates patient assessment – a list of traits with no enticing connective thread. But despite the prose lacking lyrical quality it remains an intensely worthwhile read in the cross-section of experience it presents.What I was Given:A smattering of sexism, punctuated by admiration for the warm brotherhood of Saudi men. A world of women, some more comfortable in their restrictions than others –conducting their lives as best they know how. One scene, a vehicle pursuit of a car of women by a car of men – sings out. But harassment by men is unfortunately not unique to this culture. Otherwise the world of women mostly revolves around culturally sniping each other for faux paus in the name of religious piety. A handful of worthwhile cross-cultural observations involving globalization. What more I could want: Chapter divisions that made more sense thematically. As well as more cumulative build in chapter progressions. A central point. A more compelling narrative tone. More voiced internal contemplation of the world she was observing as opposed to the almost "just the facts" descriptions. An ending that felt less pat, less clean and dismissive – more contemplative.
Review by Neverwithoutabook
16/06/2015
I enjoyed this book. Accompanying Qanta Ahmed as she spends two years in the Kingdom of Saudi Arabia is as much an eye-opening and spiritually enlightening experience for the reader as it is for the author. From the beginning and her concerns about fitting into Saudi society, despite her Muslim faith, to the ending realization of how much she has learned and changed and become stronger for her experiences, Qanta shows us a side of the Saudi people and the Muslim faith we would find nowhere else. Some of the lifestyle of Saudi people is difficult to understand or relate to from a western viewpoint, but Qanta describes it well. From the frustrations of not being allowed to be independent in such simple things as driving, dining in public, or shopping unaccompanied, to the difficulties of just doing the job she is trained to do while working in a male dominated society. And yet she finds that the women of this society are finding ways to effect changes that western cultures take for granted, and they do it all within the parameters of their society and with the aid of forward-thinking fathers and husbands. I recommend this book to anyone who has a curiosity or is looking for a better understanding about Saudi Arabia or the Muslim faith.