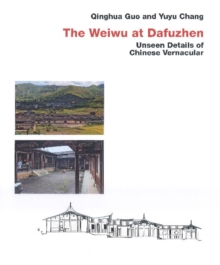 Chinese Vernacular : The Weiwu at Dafuzhen
Hardback
Description
Two main types of residential architecture have dominated the architecture in the Fujian region in China.
Known as tulou and weiwu, they have been developed in parallel.
Both are designed for communal living, but are distinct from each other in terms of setting, layout, form and size.
A good deal is known about tulou which has been inscribed as UNESCO World Heritage in 2008, but existing scholarship on weiwu is lacking. The weiwu at Dafuzhen in central Fujian is of particular interest because of its architectural and planning sophistication and its commoners status.
It is the Family Xiaos estate built during 1870 to 1885.
Our tasks were: first, to survey in situ each building part of the complex in the current situation with attention to details; second, to portray what was hidden from view using masterly "x-ray" eyes; third, to convey the information in measured drawings at technological and design levels.
Our work is graphic and analytical in nature, ranged within a series of research questions: What was the planning made to suit the hillside setting?
What was the architectural arrangement made to accommodate the community living?To what extent do water supply and drainage design serve as a planning strategy?
This study suggests that water management was a key issue which was not a topic of great interest in traditional scholarship.
The book offers students and professionals an expert introduction to Chinese vernacular that has been termed the essence of architecture, with the Dafuzhen weiwu as a case study.
It describes characters and structures, discusses functions and rationales, and investigates methods and techniques at design and construction levels.
Information
Format: Hardback
Pages: 160 pages, black & white illustrations, colour illustrations
Publisher: Edition Axel Menges
Publication Date: 01/09/2016
Category: History of architecture
ISBN: 9783936681949