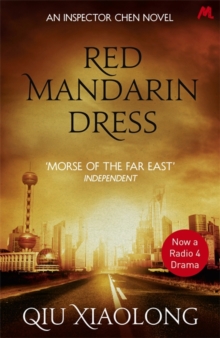 Red Mandarin Dress : Inspector Chen 5
Paperback
Description
Now a BBC Radio 4 Drama Series.Political corruption, capitalist greed and past injustices are all revealed when Inspector Chen investigates a serial killer in Shanghai.An early morning jogger found her.
Clad in nothing but a red mandarin dress, she had been dumped, barely concealed, on a traffic island. The death of a dancing girl was unpleasant but this was particularly unusual in that she had been left openly in the centre of town. She had probably angered one of the Mr Big Bucks that were taking over and transforming Shanghai.
Inspector Chen is an intuitive investigator, a talented poet and an honourable man on the edge of a nervous breakdown.
Desperate to find a way to release himself from the perilous police career that had been chosen for him, he takes time off to begin an MA in Literature.
Then another girl is found dead . . . With a serial killer on the loose. Chen is pulled back to work and into his most dangerous assignment yet.
Information
Format: Paperback
Pages: 320 pages, n/a
Publisher: Hodder & Stoughton General Division
Publication Date: 01/01/2007
ISBN: 9780340935187
Free Home Delivery
on all orders
Pick up orders
from local bookshops
Reviews
Showing 1 - 1 of 1 reviews.
Review by isabelx
16/06/2015
Newspapers went wild with theories. No murderer would have dumped a body in such a dress, at such a location, without some reason. One reporter saw it pointing at the Shanghai Music Institute, located across the street opposite the flower bed. One deemed it a political case, a protest against the reversal of values in socialist China, for the mandarin dress, once condemned as a sign of capitalist decadence, had become popular again. A tabloid magazine went further, speculating that the murder had been orchestrated by a fashion industry tycoon. Ironically, one result of the media coverage was that several stores immediately displayed new lines of mandarin dresses in their windows."Red Mandarin Dress" is set in the 1990s, at a time when China is in transition, undergoing rapid social and economic change. The Big Bucks are making obscene amounts of money while the poor are getting poorer, corruption is rife and the police can no longer rely on neighbourhood committee membersknowing every detail of the lives of people living in their areas.When a young woman clad only in a red mandarin dress is found dead by a main road in Shanghai, followed a week later by the discovery of a second body in an equally prominent spot, there is no way for the authorities to hush it up even though their position has always been that there are no serial killers in China. As psychology was frowned on until recently, the police are forced to begin by discussing the serial killers they have read about in Western novels, before managing to get their hands on some psychology text books.Chief Inspector Chen, who is a poet as well as a policeman, is off work for a few weeks doing a literature course, leaving Detective Yu in charge when their team is handed the case after the second murder, but he is soon drawn into the case. Both Chen's girlfriend White Flower and Yu's wife Peiqin help out unofficially, with White Flower researching Mandarin dresses while Peiqin finds out about the lives of the 'three-accompanying girls' (a euphemism for prostitutes) via her contacts in the restaurant trade.It makes a nice change to read a murder-mystery set in such a different culture.
Also in the As heard on Radio 4 series | View all