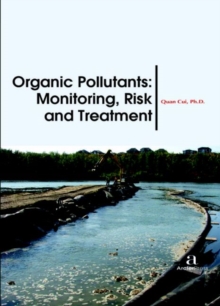 Organic Pollutants : Monitoring, Risk and Treatment
Hardback
Description
Environmental pollution with organic pollutants has increased as a consequence of the expansion of urban, human, agricultural and industrial activities.
Toxic organic pollutants cause several environmental problems to our environment.
The most common organic pollutants named persistent organic pollutants (POPs) are highly toxic, and very dangerous to our environment.
The persistence of the organic compounds allows them to accumulate in human, animals and plant tissues and pass on more to food supply and get into our bodies cause major problems such as cancer and disruption of the immune system.
Efficient techniques for the removal of toxic organic pollutants from water have drawn significant interest from scientists.
The occurrence of organic pollutants in the ecosystem, their risk and removal methods are very important issues.
They came from pesticides, solvents, pharmaceuticals and industrial chemicals released into the environment.
Having stable chemical structures, POPs hardly degrade in the natural environment.
They also have the features of easy bio-accumulation and long distance travel, which eventually allow them to contaminate a larger area.
Besides POPs, other organic pollutants such as organic halides, halogenated hydrocarbons, polychlorinated biphenyl (PCB) and their analogous, polycyclic aromatic hydrocarbons (PAHs) and surfactant, also have proved to have biological or environmental toxicities.
This book gives an introduction about how organic pollutants have been monitored, the toxic level and outcome on organisms and the existing researches about the degradation of organic pollutants.
This book deals with several aspects of organic pollutants, especially in the light of organic pollutants monitoring, risk assessment as well as the practical application of different techniques for removing it from the environment.
Persistent organic pollutants adversely affect human health and the environment around the world. Because they can be transported by wind and water, most POPs generated in one country can and do affect people and wildlife far from where they are used and released.
They persist for long periods of time in the environment and can accumulate and pass from one species to the next through the food chain.
Efficient techniques for the removal of highly toxic organic compounds from water have drawn significant interest.
A number of methods such as coagulation, filtration with coagulation, precipitation, ozonation, adsorption, ion exchange, reverse osmosis and advanced oxidation processes have been used for the removal of organic pollutants from polluted water and wastewater.
These methods have been found to be limited, since they often involve high capital and operational costs.
On the other hand ion exchange and reverse osmosis are more attractive processes because the pollutant values can be recovered along with their removal from the effluents.
Reverse osmosis, ion exchange and advanced oxidation processes do not seem to be economically feasible because of their relatively high investment and operational cost.
Among the possible techniques for water treatments, the adsorption process by solid adsorbents shows potential as one of the most efficient methods for the treatment and removal of organic contaminants in wastewater treatment.
Adsorption has advantages over the other methods because of simple design and can involve low investment in term of both initial cost and land required.
The adsorption process is widely used for treatment of industrial wastewater from organic and inorganic pollutants and meet the great attention from the researchers.
In recent years, the search for low-cost adsorbents that have pollutant -binding capacities has intensified.
Materials locally available such as natural materials, agricultural wastes and industrial wastes can be utilized as low-cost adsorbents.
Free Home Delivery
on all orders
Pick up orders
from local bookshops