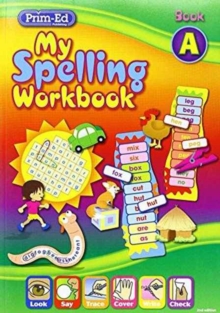 My Spelling Workbook : Book A
Book
Description
My Spelling Workbook Book A is broken into three developmental levels to cater for the changing needs of children moving into formal schooling.
The first section of the book has been designed to consolidate initial, medial and final sounds.
Activities require children to exercise both auditory and visual discrimination in readiness for introducing simple spelling strategies.
Teaching and learning spelling are progressive processes, which are structured in this scheme, marrying phonics with 'common words'.
Children learn best when spelling is taught systematically and in a structured manner over time.
Spelling needs explicit instruction for the majority of children, particularly for those who fail to 'catch it' because of inherent difficulties.The NLS Framework for Teaching (Beard 1998) recommended that successful management of the teaching of spelling should include structured teaching, which involves the following, all of which are an integral part in the My Spelling Workbook series: making it clear what has to be learnt dividing material into manageable chunks teaching in a well considered sequence the use of material in which children make use of hunches and prompts regular testing for progress immediate feedback
Information
Format: Book
Pages: 78 pages
Publisher: Prim-Ed Publishing
Publication Date: 31/05/2011
ISBN: 9781846547805
Free Home Delivery
on all orders
Pick up orders
from local bookshops