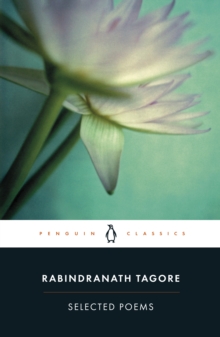 Description
The poems of Rabindranath Tagore (1861-1941) are among the most haunting and tender in Indian and in world literature, expressing a profound and passionate human yearning.
His ceaselessly inventive works deal with such subjects as the interplay between God and the world, the eternal and transient, and with the paradox of an endlessly changing universe that is in tune with unchanging harmonies.
Poems such as 'Earth' and 'In the Eyes of a Peacock' present a picture of natural processes unaffected by human concerns, while others, as in 'Recovery - 14', convey the poet's bewilderment about his place in the world. And exuberant works such as 'New Rain' and 'Grandfather's Holiday' describe Tagore's sheer joy at the glories of nature or simply in watching a grandchild play.
Information
Format: Paperback
Pages: 208 pages
Publisher: Penguin Books Ltd
Publication Date: 31/03/2005
Category: Poetry by individual poets
ISBN: 9780140449884
Other Formats
Paperback from £2.50
EPUB from £0.99
eAudiobook MP3 from £3.37
Free Home Delivery
on all orders
Pick up orders
from local bookshops
Reviews
Showing 1 - 2 of 2 reviews.
Review by empress8411
16/06/2015
A nice, pleasant collection of Tagore's work. I recommend as a good starting point for exploring his work and life.
Review by gbill
16/06/2015
An excellent collection of poems sampled over Tagore's life, from age 21 to 79, with intelligent commentary and translation from William Radice. Tagore was truly enlightened, and an advocate for women, the poor, and children. He was well-read in Indian classics and loved his native Bengal, yet had regular contact with the West and traveled throughout his life, finding himself 'discovered' by W.B. Yeats and then winning the Nobel Prize for Literature in 1913. He was a deeply spiritual man and yet balanced, seeing a need to avoid asceticism, which he associated with science without poetry, and passionless intellect. He was an idealist who refused to compromise, criticizing the Rowlatt Act against Sedition five years after his Nobel Prize, angering Britain, and yet detaching himself from Gandhi and the Swaraj (home rule) campaign a few years later. All of that comes out in his poems, which are lyrical, inventive, and often contain dual meaning. It seems translation is extraordinarily difficult, but I really enjoyed what I was able to read here, and that was true from beginning to end; his poems did not diminish in quality with age. Clearly an author to read more of for me.Quotes:On beauty:"I can only gaze at the universeIn its full, true form,At the millions of stars in the skyCarrying their huge harmonious beauty – Never breaking their rhythmOr losing their tune,Never derangedAnd never stumbling – I can only gaze and see, in the sky,The spreading layersOf a vast, radiant, petalled rose."On children, this to the "bespectacled grandfather" who is "trapped in my work like a spiderwebbed fly":"Flooding of my study with your leaps and your capers,Work gone, books flying, avalanche of papers.Arms round my neck, in my lap bounce thump – Hurricane of freedom in my heart as you jump.Who has taught you, how he does it, I shall never know – You're the one who teaches me to let myself go."On hospitality, and communicating without language:"Lady, your kindness is a star, the same solemn tuneIn your glance seems to say, 'I know you are mine.'I do not know your language, but I hear your melody:'Poet, guest of my love, my guest eternally.'"On idealism:"I know what a risk one runs from the vigorously athletic crowds in being styled an idealist in these days, when thrones have lost their dignity and prophets have become an anachronism, when the sound that drowns all voices is the noise of the market-place. Yet when, one day, standing on the outskirts of Yokohama town, bristling with its display of modern miscellanies, I watched the sunset in your southern sea, and saw its peace and majesty among your pine-clad hills, - with your great Fujiyama growing faint against the golden horizon, like a god overcome with his own radiance, - the music of eternity welled up through the evening silence, and I felt that the sky and the earth and the lyrics of the dawn and the dayfall are with the poets and the idealists, and not with the marketmen robustly contemptuous of all sentiment, - that, after the forgetfulness of his own divinity, man will remember again that heaven is always in touch with his world, which can never be abandoned for good to the hounding wolves of the modern era, scenting human blood and howling to the skies."On joy:"It dances today, my heart, my heart, like a peacock it dances, it dances."On love without boundaries, without regard to convention (with a meaning that can be spiritual pursuit or beliefs):"I find you when and where I choose,Whenever it pleases me – No fuss or preparation: tell me,Who will know but we?Throwing caution to the winds,Spurned by all around,Come, my outcaste love, O let usTravel, freedom-bound."On the Taj Mahal, and undying love:"The names you softlyWhispered to your loveOn moonlit nights in secret chambers live on HereAs whispers in the ear of eternity."On trees:"O profound,Silent tree, by restraining valourWith patience, you revealed creativePower in its peaceful form. Thus we comeTo your shade to learn the art of peace,To hear the world of silence; weighed downWith anxiety, we come to restIn your tranquil blue-green shade…"