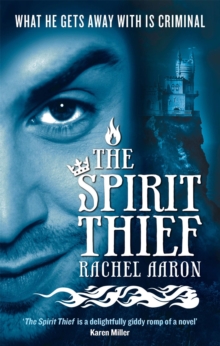 The Spirit Thief
Paperback
Description
Eli Monpress is talented. He's charming. And he's a thief. But not just any thief. He's the greatest thief of the age - and he's also a wizard. And with the help of his partners - a swordsman with the most powerful magic sword in the world but no magical ability of his own, and a demonseed who can step through shadows and punch through walls - he's going to put his plan into effect. The first step is to increase the size of the bounty on his head, so he'll need to steal some big things.
But he'll start small for now. He'll just steal something that no one will miss - at least for a while. Like a king.
Information
Format: Paperback
Pages: 352 pages
Publisher: Little, Brown Book Group
Publication Date: 01/10/2010
Category: Fantasy
ISBN: 9780356500102
Free Home Delivery
on all orders
Pick up orders
from local bookshops
Reviews
Showing 1 - 1 of 1 reviews.
Review by wyvernfriend
16/06/2015
I have to admit that the very first line made me laugh. "In the prison under the castle Allaze, in the dark mouldy cells where the greatest criminals in Mellinor spent the remainder of their lives counting rocks to stave off madness, Eli Monpress was trying to wake up a door." The author had my attention with that. The idea that things are imbued with spirits that certain people can hear and with training can get them to do things. Eli is a charmer, what would happen if a con man could use his voice to not only charm people but also spirits to do what he wants. He doesn't just talk to them but befriends them. Miranda Lyonette also works with spirits but she's more assertive with them, the schools of magic in this world suggest that this is the way to deal with spirits and Eli is making her ask questions about this. The fact that she's chasing him to stop him is slightly twarted when a man who doesn't coherce but enslaves spirits and causes them pain, gets involved in Eli's plan to kidnap and ransom a king (in a further complicated plan to make himself the most valuable wanted man in the world).I really enjoyed this, I chuckled my way through the ways in which Eli kept tripping people up with their own thoughts. He also has two companions that left me wondering about them and their plans and their future, the swordsman Josef (who has a sword he's reluctant to use) and Nico, who is harbouring a demon-seed, that Josef and his sword seems to be able to control.It's not without it's flaws and Eli could get annoying but it was a fun read, he appears to have depths that have only been glanced at and a background that I want to know more about. I liked it enough that when I realised that book 2 was in the library above where I worked I rushed up to nab it and pressed a copy into the hands of a person working in that branch that I know likes fantasy.
Also in the The Legend of Eli Monpress series