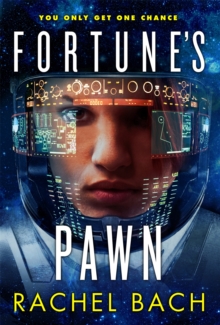 Fortune's Pawn : Book 1 of Paradox
Paperback
Part of the Paradox series
Description
Fans of Firefly and Elizabeth Moon will lap up this action-packed military science fiction series.
Welcome to the start of a thrilling new space adventure, starring female mercenary Deviana Morris . . .Deviana Morris isn't your average mercenary. She has plans. Big ones. And a ton of ambition. One of those is going to get her killed one day - but not just yet. Not when she just got a job on a tiny trade ship with a nasty reputation for surprises.
The Glorious Fool isn't misnamed: it likes to get into trouble. And with a reputation for bad luck that makes one year as security detail on this ship equal to five years everywhere else - Devi knows she's found the perfect way to get the jump on the next part of her Plan.
But the Fool doesn't give up its secrets without a fight, and one year might be more than even Devi can handle.Review for FORTUNE'S PAWN:'This book kicked ass . . . I just loved it!' - FELICIA DAY'Devi is hands-down one of the best sci-fi heroines I've read in years' - RT BOOK REVIEWS'Rollicking space opera starring a tough, sexy, armor-clad space chick . . . [Bach] does a nice job of painting a scenario that, if familiar - think the space marines of the Alien franchise or the motley crew of Firefly - allows her plenty of room for action. And action aplenty is what she delivers . . . Lots of fun' - KIRKUS REVIEWS
Information
Format: Paperback
Pages: 368 pages
Publisher: Little, Brown Book Group
Publication Date: 06/02/2014
Category: Science fiction
ISBN: 9780356502359
Free Home Delivery
on all orders
Pick up orders
from local bookshops
Reviews
Showing 1 - 3 of 3 reviews.
Review by superant
16/06/2015
Like most reviewers, I enjoyed this read. I thought I was going to start it and slowly read it over the next week. But, I was wrong, I got into it and finished in two days. When it finished on the somewhat cliffhanger ending, I had to rush out and buy the next one immediately.This book is a space adventure story. There are space battles, small unit actions with knifes, guns, axes and grenades. There are a number of alien species, two of which are on the trading vessel with Deviana. One reviewer mentioned Ann Aguirre's series about 'Sirantha Jax.' I did not think of it myself, but I agree there is some similarity and I like both series for the same reasons. I even liked the explanation of FTL. In the book a hyperspace portal is a giant computing system that helps calculate time and spacial displacement for a trip. There are at least 4 different political power groups. The terrans, the Paradoxian forces the ix'la, and the legros.The author built the tension well, so that by the time Deviana develops a romance and runs into hell of battles and challenges we actually care what happens to her.
Review by shanaqui
16/06/2015
In many ways, this is awesome and completely up my street. Mysteries in space (not that it's a detective story, but there are unexplained phenomena), kickass female lead in a mech suit who owns her sexuality and doesn't take any crap from anyone. The problem for me is that alongside all of that, there's a heaping of romance tropes, including "we shouldn't be together because I have secrets and you might get hurt" and even "I might hurt you", which sets us up for one of those horrid endings where the guy decides he knows what's best for his partner without thinking about what she might prefer.All in all, though, it is fun. The action scenes work well, and you never get the sense that Devi is somehow getting preferential treatment from the author. She can screw up, she can get her ass kicked, and it doesn't just follow the dictates of the story. She feels real in that sense: she's not just driven by the story.It's a quick read, and the sci-fi aspects are enough to keep me interested despite the romance not really being to my taste. The next book might change my mind, but for now I'm definitely along for the ride.
Review by iansales
16/06/2015
I'd seen a number of positive mentions of this space opera, so when I saw a copy going cheap at Edge-Lit, I bought it. But, well… the narrator is sort of fun, an ambitious mercenary who is very, very good at what she does – but her arrogance started to wear thin after a while. The power armour is handled well, and I quite liked the gentle references to the suits of armour of knights of old. The protagonist's home world featured some nice touches, even if it didn't really stand up to scrutiny – a technological feudalistic society with a king worshipped as a god? The rest of the worldbuilding is even worse. There's the nasty lizard aliens, the comedy bird aliens and the enigmatic glow-in-the-dark squid aliens. Oh, and the love interest is some sort of technological part-alien superhero. Narrator Deviana is so ambitious, she leaves the mercenary brigade and takes a job as on board security for a free trader who seems to attract trouble. Yes, it's all a bit like a role-playing game. Annoyingly, Bach only reveals what is blindingly obvious in this book, and I'm assuming the more interesting questions will be answered in the remaining two books of the trilogy. Which is annoying, as I won't be reading them.