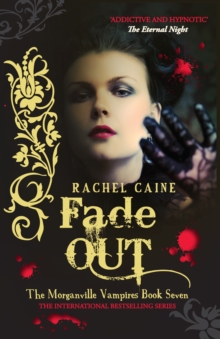 Description
Without the evil vampire Bishop ruling over the town of Morganville, the resident vampires have made major concessions to the human population.
With their newfound freedom, Claire Danvers and her friends are almost starting to feel comfortable again...Now Claire can actually concentrate on her studies, and her friend Eve joins the local theatre company.
But when one of Eve's castmates goes missing after starting work on a short documentary, Eve suspects the worst.
Claire and Eve soon realise that this film project, whose subject is the vampires themselves, is a whole lot bigger - and way more dangerous - than anyone suspected.
Information
Format: Paperback
Pages: 352 pages
Publisher: Allison & Busby
Publication Date: 11/01/2010
Category: Fantasy
ISBN: 9780749007492
Free Home Delivery
on all orders
Pick up orders
from local bookshops
Reviews
Showing 1 - 3 of 3 reviews.
Review by lewispike
16/06/2015
Things are mostly quiet in Morganville, a very suspicious state of affairs, so Claire and the gang have to deal with Amelie mourning Sam, almost to the point of her death, and Claire has to cope with Ada going insane and trying to kill her.Fun times!
Review by nicola26
16/06/2015
The whole tone of the series has changed, but I think I'm getting used to it now. This one was definitely a lot better than book six- mostly because Shane and Claire stayed together for the most part. Eve really irritated me in this one. This is the second time she's completely abandoned Claire, and she never even bothers to apologize. This book centered around a new character, Kim. It was really fast paced, and there was a lot going on, but it was also really exciting. As usual, the gang are still in trouble at the end and I'm really anxious to find out what happens to them next.
Review by Cynical_Ames
16/06/2015
Good but not brilliant. This one is a little more sedate and less action packed but it took a worrying element (i.e. Ada) of the previous book and expanded upon it. That's what I like about this series, it flows almost effortlessly like it's one long story rather than episodes. Everything is explained and played out to its natural end.<br/><br/>I instantly took a disliking to Kim, her attitude was inexcusable. I couldn't understand why Eve worshipped her. Kim's media project to expose Morganville was brilliant but I expected her obsession with Shane would lead to an Ada-like attempt on Claire's life, thankfully that didn't happen. We don't need everyone to be jealous of Claire, thinking she's stealing their potential boyfriends. When Myrnin handed over the tape of Shane and Claire and Claire asked whether he had watched it his reaction was suspicious, he may have said no but I wouldn't be surprised if he was lying. Claire is the only person who understands him, his theories and his mental state why wouldn't he be interested in her romantically speaking?<br/><br/>It was inevitable that Michael would be put in the middle of the vampires and the humans or more precisely the Glass House group of friends. I'm not surprised Eve has to decide whether she can handle Michael being different, more than what he was before he became a vampire. <br/><br/>I was a bit unsure of Amelie's motives in changing the status of the group. I can understand making Shane and Eve neutral but not Claire. Claire is an asset to Amelie, Claire saved her life. I would think Amelie would want to keep her close, keep that connection through the bracelet but maybe she sees that as slavery. <br/><br/>I found Amelie and Oliver's relationship intriguing. They are friends but also potential enemies. I like that Oliver repositioned himself as a potential enemy again to snap Amelie out of her suicidal grieving for Sam so that she can return to her duties of overseeing Morganville.<br/><br/>Now that Ada is gone and the magic surrounding Morganville is down, I wonder how things will change...
Also in the Morganville Vampires series | View all