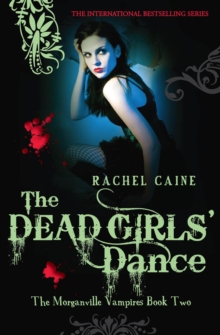 The Dead Girls' Dance
Paperback
Description
Claire has her share of challenges. Like being a genius in a school that favours beauty over brains; homicidal girls in her dorm, and finding out that her college town is overrun with the living dead.
On the up side, she has a new boyfriend with a vampire-hunting dad.
But when a local fraternity throws the Dead Girls' Dance, hell is really going to break loose.
Information
Format: Paperback
Publisher: Allison & Busby
Publication Date: 04/07/2008
Category: General
ISBN: 9780749079864
Free Home Delivery
on all orders
Pick up orders
from local bookshops
Reviews
Showing 1 - 4 of 4 reviews.
Review by elliepotten
16/06/2015
The second in the <i>Morganville Vampires</i> series, this book picks up right where <i>Glass Houses</i> left off. Literally. Not hours, days or weeks later, but seconds. It was a really good start, dropping the reader right into the action rather than skipping over the last book's cliffhanger ending as some series are infuriatingly prone to doing.This time, the young occupants of the Glass House - Michael, Shane, Eve and Claire - have to deal with Shane's vengeful biker father Frank, who has returned to Morganville with his gang to bring down the vampires who contributed to the destruction of his family. Meanwhile, the household is trying to stay on the right side of the vampire Powers That Be, as well as coping with their jobs, college work and psychopathic peers. And each other, of course, as the Michael-Eve and Claire-Shane romances simmer away nicely in the background...It took me longer to get into <i>The Dead Girls' Dance</i> than <i>Glass Houses</i>, perhaps because the four main characters are more fragmented from each other, and there is just so much going on. It felt like things were moving very quickly, but I didn't always engage with it all. Like an action movie where you switch off a bit through some of the fight scenes, until it comes back down to earth for a moment and you start paying attention again. In fact, reading these books I can see them running through my head like a movie - I think they'd make great films. I thought the characters of Eve, Claire and Amelie really came to life in this book, and I look forward to seeing how they and the other characters grow and develop over the rest of the series. The final verdict? A good little read, but not as gripping as <i>Glass Houses</i>. The Morganville equivalent of <i>New Moon</i>, perhaps?
Review by boppisces
16/06/2015
This is the second book in the Morganville Vampires series. It follows on from the cliff-hanger in the first book when Claire Danvers discovers that her college town is full of vampires. Her flatmate Michael is dead, killed by the biker gang who stormed into the Glass House in the final chapter of Morganville Vampires. Their leader is unfortunately flatmate Shane's father and has come back to town seeking revenge on the vampires for killing his daughter and wife. He mistakenly took Michael for a vampire instead of the ghost he really is. Flatmates Shane, Claire and Eve are distraught and frantically try to find solutions to their problems. Amelie, the leader of all vampires, seems to offer conditional support but the situation is volatile. Lots of action but the date-rape drug and attempted rape of Claire is handled in what seems a frivolous manner. Not too bad overall.
Review by nicola26
16/06/2015
I really enjoyed this one. It was a much quicker read than the first, but at the same time, it had so much more action in it. There was a lot going on in this one, which kept it exciting until the very last page. The book starts where the last one left off- Claire, Michael, Shane and Eve attempting to stop Shane's dad attacking the vampires. It leads onto a very intricate plot, and there was always something happening. The relationships developing between Michael and Eve, and Claire and Shane are interesting, and really seem to fit in well with the story. I liked this one a lot, and it definitely leaves you wanted to read the next one.
Review by katie1802
16/06/2015
Scratch what I said before, these are now definitely better than Twilight. The protagonist is a very likable girl and she can balance her boyfriend and her own life at the same time, who knew it could be done?
Also in the Morganville Vampires series | View all