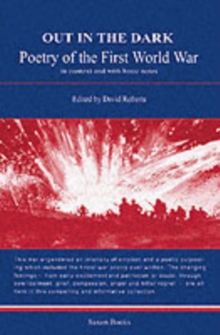 Out in the Dark : Poetry of the First World War in Context and with Basic Notes
Paperback / softback
Description
This anthology, based on "Minds at War" - by same author - has been prepared for the general reader who requires less background information, and for students, including GCSE and A Level.
One of mankind's greatest tragedies was the First World War.
For over four years whole nations unleashed the full might of their new-found destructive powers.
Poets played their part in this war as promoters of it, soldiers, victims and onlookers.
Their stories and their responses to their experiences are deeply moving, and their work includes some of the greatest poetry of the 20th Century.
Many of the poems in Out in the Dark are currently selected by exam boards.
The 19th Century poems, examples of the culture of Empire and militarism, help to explain both the rush to war and the nature of the early poetry of the First World War - 140 poems in all.
Information
Format: Paperback / softback
Pages: 192 pages, illustrations, notes
Publisher: Saxon Books
Publication Date: 26/10/1999
Category: Poetry by individual poets
ISBN: 9780952896913