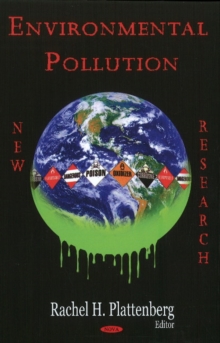 Environmental Pollution : New Research
Hardback
Description
Pollution is the release of chemical, physical, biological or radioactive contaminants to the environment.
Principal forms of pollution include: air pollution, the release of chemicals and particulates into the atmosphere.
Common examples include carbon monoxide, sulphur dioxide, chlorofluorocarbons (CFCs), and nitrogen oxides produced by industry and motor vehicles.
Ozone and smog are created as nitrogen oxides and hydrocarbons react to sunlight.
Water pollution affects oceans and inland bodies of water.
Examples include organic and inorganic chemicals, heavy metals, petrochemicals, chloroform, and bacteria.
Water pollution may also occur in the form of thermal pollution and the depletion of dissolved oxygen.
Soil contamination often occurs when chemicals are released by spill or underground storage tank leakage.
Contaminants include hydrocarbons, heavy metals, MTBE, herbicides, pesticides and chlorinated hydrocarbons.
Often occurs with water pollution, thanks to surface runoff and groundwater.
Radioactive contamination was added in the wake of 20th-century discoveries in atomic physics.
Noise pollution encompasses roadway noise, aircraft noise, industrial noise as well as high-intensity sonar.
Light pollution, includes light trespass, over-illumination and astronomical interference.
Visual pollution, which can refer to the presence of overhead power lines, highway billboards, scarred landforms (as from strip mining), open storage of junk or municipal solid waste.
The nature, distribution and ecological effects of all types and forms of pollutants in air, soil and water are the subject of this book.
Information
Format: Hardback
Pages: 308 pages, b/w illus, tables & charts
Publisher: Nova Science Publishers Inc
Publication Date: 07/10/2010
Category: Pollution control
ISBN: 9781600212857
Free Home Delivery
on all orders
Pick up orders
from local bookshops