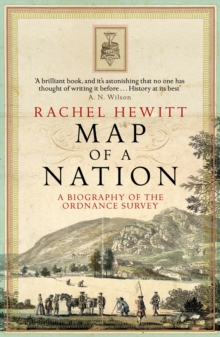 Map of a Nation : A Biography of the Ordnance Survey
Paperback
Description
Map of a Nation tells the story of the creation of the Ordnance Survey map - the first complete, accurate, affordable map of the British Isles.
The Ordnance Survey is a much beloved British institution, and Map of a Nation is, amazingly, the first popular history to tell the story of the map and the men who dreamt and delivered it.
The Ordnance Survey's history is one of political revolutions, rebellions and regional unions that altered the shape and identity of the United Kingdom over the eighteenth and nineteenth centuries.
It's also a deliciously readable account of one of the great untold British adventure stories, featuring intrepid individuals lugging brass theodolites up mountains to make the country visible to itself for the first time.
Free Home Delivery
on all orders
Pick up orders
from local bookshops
Reviews
Showing 1 - 2 of 2 reviews.
Review by Helenliz
16/06/2015
 This is an interesting history of how the first Ordnance Survey map of England & Wales came to be produced and published in 1870. The story starts over 100 years earlier, with the problems the military had in pursuing the clansmen after Culloden - there was no map to refer to - all the geographical knowledge was in the heads of the locals. this progresses from a survey for purely military purposes, through estate maps of the landed gentry to wide ranging linguistic, geologic, naturalistic and geographic surveys of the British Isles (plus further flung territories). The various characters that played a prominent role in the undertaking are described and it is quite an engaging read, not simply a dry recitation of dates.
Review by Ma_Washigeri
16/06/2015
Puts the Ordinance Survey right on the map :). Something we walkers and scramblers have always loved, maps carried next to our hearts across the hills and through the rain, sleet and (rarely) burning sun. Winter nights on the kitchen table plotting routes. And 20 years ago wished for abroad in countries where whole hillsides seemed to be missing from the local maps! A moment in time just as the world changes - GPS, SATNAV, satellite pictures. The author places the start of the Ordinance Survey firmly in the military world, beginning with the Highland clearances and wars with France, continuing with Ireland and the the mapping for taxation, the massive social implications of fixing place names and not forgetting the struggle of the 20th century for access to land. The military, economic and political setting gives the book a real bite without detracting from the heroics of the multitude of people who walked the land actually doing the mapping.
Also by Rachel Hewitt