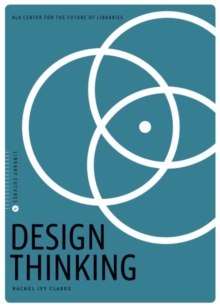 Design Thinking
Paperback / softback
Description
The Library Futures Series continues with this primer on design thinking, broadly defined as an approach to problem solving which prioritizes empathy with and deeper understandings of users to define a problem; actively engages in prototyping to develop solutions; and iterates solutions through implementation and resulting modification.
Clarke, a researcher whose work has systematically examined the capacity of design thinking to revolutionize LIS education and the exploration of diverse library reading materials, guides readers through this trend.
After introducing the concept, she outlines the steps of the design thinking process model.
She then shares various examples of design projects in libraries, illustrating how design thinking extends beyond just space planning or website design and is applicable to all library products and services.
She also demonstrates the ways in which design can either enable or stifle such foundational library values as intellectual freedom, diversity, and access.
Concluding with a rousing call to action for all librarians to recognize their positions as designers, this book will encourage readers to recognize how design thinking can empower libraries.
Information
Format: Paperback / softback
Pages: 80 pages
Publisher: American Library Association
Publication Date: 28/02/2019
Category: Library & information sciences
ISBN: 9780838917923