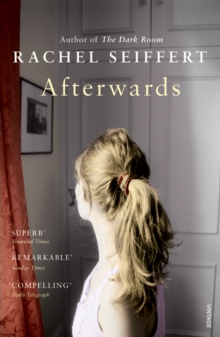 Description
To love someone, need you know everything about them?When Alice and Joseph meet, they fall quickly into a tentative but serious relationship.
Both are still young and hopeful of each other, but each brings with them an emotional burden.
Alice's family is full of absences and Joseph harbours an unspeakable secret from his time in the army in Northern Ireland.
When Alice's widowed grandfather begins to tell Joseph about his RAF experiences in 1950s Kenya, something still raw is tapped in Joseph; his reaction to the older man's unburdening of guilt is both unexpected and devastating for them all.
Information
Format: Paperback
Pages: 336 pages
Publisher: Vintage Publishing
Publication Date: 04/10/2007
ISBN: 9780099461777
Free Home Delivery
on all orders
Pick up orders
from local bookshops
Reviews
Showing 1 - 3 of 3 reviews.
Review by AndrewBlackman
16/06/2015
The style of writing is very conversational. No beauty, not even many full sentences. The sort of writing with not many verbs. Just reportage,and not always very grammatical, like you were hearing someone tell you it on the phone.That part didn't work for me, but the advantage of it was that it focused my attention entirely on the characters, all of which were strong and fascinating. What made them successful, too, was that while much was revealed about them, important things were also withheld, so that they felt elusive in a way. This particularly applies to Joseph, not surprisingly, as he was traumatised by his time in the army in Northern Ireland and his killing of a man at a checkpoint. His girlfriend Alice we know best, but even she is far from simple. And then there's her grandfather David, hard to understand until we hear him talking about his time in Kenya, the bombs he dropped on Mau Mau fighters, just seeing the explosions in the forest below and never really knowing how many he was killing.The novel resists easy answers or judgements - well, any answers or judgements really. It is political without seeming polemic, and none of the characters feel like caricatures or representatives of a position (except perhaps Alice's stepfather, who doesn't play much of a role except as a representative of the unthinking antimilitary position, criticising David without attempting to understand his position.I have got behind with my reviewing so it's been a while since I read this, but those are the main things I remember. What I took from it for my own writing was that much could be communicated without making explicit points, that very functional writing helps to focus attention on the character development, and that characters can feel "real" and rounded while at the same time remaining somewhat elusive and unknowable even to themselves.
Review by sianpr
27/08/2015
An intense and bleak story involving Joseph, who served in the army in Northern Ireland, Alice, who he starts a relationship with, and Alice's grandfather who is an army veteran who was stationed in Kenya at the time of the Mau Mau. Everything starts to unravel and while Alice tries, she can't put it back together again. Alice is frustrated that neither her grandfather or Joseph talk about their army experiences, which have clearly scarred them psychologically. In fact, Alice seems to want them to confess- if they do of course, she probably won't be able to cope with what she hears. The style of writing is intense and sucks you in but in the end I found the hopeless state of mind rather relentless and found myself wondering why Alice was so insistent on wanting Joseph to confess rather than getting on with her life.
Review by Lukerik
27/01/2016
This is a very well written novel with information given to you in brief sections of text. Conversations are not reported in full, but relevant direct speech is reported in indented sections. You get an effect much like private but controlled thought as your mind ranges over a subject. It's like the author is ruminating over a series of events of which she has complete prior knowledge. Very cleverly and idiosyncratically done.The review on the back says this is a novel about borders, and that's true. There are countless examples of distance and boundaries scattered throughout, the greatest of these being shame. The 'Afterwards' of the title refers primarily to what happens to someone psychologically after they have committed a shameful act and the boundaries it places between them.At the centre you have Alice.Her father has abandoned her. She writes to him as an adult and he responds until she sends him a photograph of her. Quite literally, he cannot face his shame.Her grandfather is responsible for hundreds of deaths, having bombed Kenya, but never saw the faces of his victims.Her boyfriend has killed one man at close range.A clever and meaningful set-up, and all delivered in the calmest prose I think I've ever read. The ending is also very good. "And afterwards..?" I asked myself.