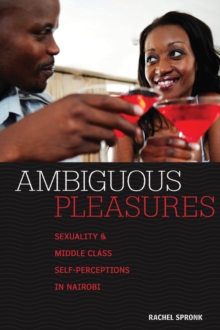 Ambiguous Pleasures : Sexuality and Middle Class Self-Perceptions in Nairobi
Hardback
Description
Rachel Spronk has written a well composed, highly interesting and maybe even path-breaking book...It is innovative in its focus on sexuality as bodily experience and implications for 'the gendered sense of self' of these young men and women [and] is also innovative in terms of methodology; first and foremost by its focus on a group of young professional men and women. * Signe Arnfred, Roskilde University Spronk's theoretical take on this theme is seminal and challenging.
She convincingly shows that a constructivist approach - emphasizing the social and historical construction of people's practices and views on sex and sexuality - is highly relevant to understanding how people navigate their lives.
But she emphasizes also its limitations because her informants' insistence that the natural, bodily power of sexual feelings has to be brought in as well. * Peter Geschiere, University of Amsterdam Among both male and female young urban professionals in Nairobi, sexuality is a key to achieving a 'modern' identity. These young men and women see themselves as the avant garde of a new Africa, while they also express the recurring worry of how to combine an 'African' identity with the new lifestyles with which they are experimenting.
By focusing on public debates and their preoccupations with issues of African heritage, gerontocratic power relations and conventional morality on the one hand, and personal sexual relationships, intimacy and self-perceptions on the other, this study works out the complexities of sexuality and culture in the context of modernity in an African society.
It moves beyond an investigation of a health or development perspective of sexuality and instead examines desire, pleasure and eroticism, revealing new insights into the methodology and theory of the study of sexuality within the social sciences.
Sexuality serves as a prism for analysing how social developments generate new notions of self in postcolonial Kenya and is a crucial component towards understanding the way people recognize and deal with modern changes in their personal lives.
Rachel Spronk is Assistant Professor at the Sociology and Anthropology Department at the University of Amsterdam. She has published on intimacy and middle class formation in Kenya, on methodological questions of sexuality research and on the bounds of poststructural approaches to understand how sex(uality) is experienced.
Information
Format: Hardback
Pages: 322 pages
Publisher: Berghahn Books
Publication Date: 13/06/2012
Category: Social classes
ISBN: 9780857454782
Other Formats
Paperback / softback from £19.75
EPUB from £25.92
Free Home Delivery
on all orders
Pick up orders
from local bookshops
Also by Rachel Spronk