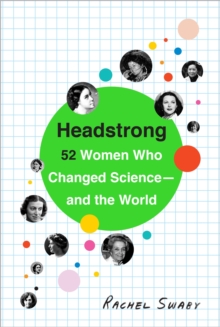 Information
Format: Paperback
Pages: 272 pages
Publisher: Broadway Books (A Division of Bantam Doubleday Del
Publication Date: 07/04/2015
Category: Popular science
ISBN: 9780553446791
Free Home Delivery
on all orders
Pick up orders
from local bookshops
Reviews
Showing 1 - 5 of 28 reviews.
Previous | Next
Review by CarolO
16/06/2015
Should a woman be offended to read an obituary about a female scientist that describes the deceased as a wonderful mother before mentioning her profession? Should a man be offended to read an obituary about a male scientist that mentions his profession before his family? I am left pondering this one point. Yes, each of these women was overlooked and underappreciated but, in the end, I find it just as sad that a man is not appreciated as much for being a great father as a woman is not appreciated for being a great scientist.This is a fabulous idea and I think the author's suggestion of reading one bio a week would make for better reading than straight through as I did. So many of these brilliant ladies that I did not know about, so many that I wanted to know more about than the few pages allotted. Reading straight through gave the bios a predictable pattern. Reading one a week and spending some time researching any that captured my interest would have been more fulfilling.
Review by book58lover
16/06/2015
I had high hopes for this book because the topic of women in science is seldom covered. But I was disappointed. The bios were very short and when one woman excelled in various fields, such as Alice Hamilton, the information on each was sparse. Many bits of information were missing that would have rounded out the bios. Mary Anning influenced Charles Darwin but we don't know how. The word 'eucaines' was used in Alice Hamilton's article but not defined and not explained by context. Alice Evans' work in bacteriology seemed critical to medicine but she had three short pages.The bibliography seemed to be exclusively web sites which I found extremely disappointing. If I could go on the internet and read about each woman, why would I need to buy this book? My go to reference is the five volume "Notable American Women" which covers 18 of the women in this book. Published by Harvard University, it is very authoritative and would have been invaluable for a book like this. Why wasn't it used? I won't even mention the numerous typos which I hope would have been caught in the final version. I would pass on this one.
Review by EowynA
16/06/2015
Well-named book! There are 52 biographies in this book, each only a few pages long, but enough to point the interested reader to further research. It is a book intended for empowerment - see the cool things these women researched! But it is a book that makes me frustrated and, well, gob-smacked at the problems that most of them faced just to get into the field they exceled in , or to get their work accepted, or even to be credited with it once it was accepted. Marie Curie does not appear in here - she doesn't need recognition. But her daughter is. I recognized a few names: Virginia Apgar, whose standard checklist identifies newborns at risk; Hedy Lamarr, who patented frequency-hopping comms; Sally Ride, astronaut; Ada Lovelace, computer pioneer; Florence Nightingale, nurse; Rachel Carson, author of Silent Spring. But it is the lesser-known women who are the revelation. They were working, contributing, and are generally unknown. Women in science have come a long way in terms of being allowed to enter fields. But we must be aware how easily those that went before can be forgotten. They do not deserve that. Read this book. It is not deathless literature, or even great biographies. But it is a start to understanding women's history in science.
Review by LTietz
16/06/2015
Headstrong: 52 Women Who Changed Science – and the World, by Rachel Swaby, is a diverse collection of stories of incredibly bright women who helped shape our lives today. A few of the women are familiar to most, such as biologist Rachel Carson, and astronaut Sally Ride. I especially enjoyed the stories of some of the lesser-known women, such as chemist Ruth Benerito, who discovered wrinkle-free cotton and changed the clothing industry. And, physicist Lise Meitner, who experimented with nuclear fission, escaped Nazi Germany, and today has an element on the periodic table named after her. This collection is highly readable; each profile is succinct and well-written. It's an inspirational assortment of stories of women in physics, medicine, and other areas of science who significantly impacted today's body of knowledge.
Review by nancytribe
16/06/2015
I found this collection of 52 brief biographies of female scientists and mathematicians fascinating, inspiring, and moving. Although the author's decision to include no living scientists means that there are fewer women of color than might have been hoped for, her range is international and cross-historical, showing how a variety of women from various backgrounds were drawn to scientific study and outlining the crucial contributions they made. The author made me reexamine women whose body of work I hadn't fully understood, as when she reframes famous bedside angel Florence Nightingale as a pioneer of statistical analysis. She also introduced me to women whose stories I didn't know, some of which, like Rosalind Franklin's deliberately obfuscated contribution to the discovery of DNA, angered and saddened me. These women's courage and tenacity are inspiring, but the author rightly rejects tokenization of her subjects; as she says in her introduction, her goal is to "treat women in science like scientists instead of anomalies." This book should be required reading for anyone committed to helping girls consider careers in STEM fields or indeed anyone interested in the history of scientific discovery.
Also by Rachel Swaby