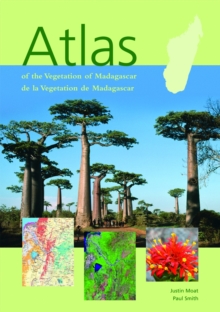 Atlas of the Vegetation of Madagascar : (Atlas de la Vegetation de Madagascar)
Hardback
Description
Madagascar is the world'sfourth largest island, and isrecognised as one of theworld's top ten hotspots forbiodiversity.
It is estimatedthat there are about 10,000plant species on the island. Of these, 80% or moreoccur nowhere else. Manarrived in Madagascar just2,000 years ago and sincehas cleared much of the island's forest. Supported by the Critical Ecosystem Partnership Fund,this atlas, in English and French, gives a history ofvegetation mapping in Madagascar, the methodologyused in compiling this atlas and detailed descriptionsof each vegetation type illustrated with photographsand diagrams.
Trends in deforestation, extent ofoccurrence and levels of protection are assessed foreach vegetation type. The atlas itself comprises 36 detailed A3 maps, all inhigh resolution colour, detailing the extent of eachvegetation type, roads, trails, rivers, airports andreserves, and a full place name index.
Information
Format: Hardback
Pages: 780 pages, Illustrations, color
Publisher: Royal Botanic Gardens
Publication Date: 01/10/2007
Category: Botany & plant sciences
ISBN: 9781842461983