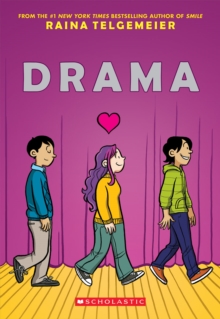 Description
Raina Telgemeier, the author of the award-winning SMILE, brings us her next full-color graphic novel . . . DRAMA! Callie loves theater. And while she would totally try out for her middle school's production of Moon Over Mississippi, she's a terrible singer.
Instead she's the set designer for the stage crew, and this year she's determined to create a set worthy of Broadway on a middle-school budget.
But how can she, when she doesn't know much about carpentry, ticket sales are down, and the crew members are having trouble working together?
Not to mention the onstage AND offstage drama that occurs once the actors are chosen, and when two cute brothers enter the picture, things get even crazier! Following the success of SMILE, Raina Telgemeier brings us another graphic novel featuring a diverse set of characters that humorously explores friendship, crushes, and all-around drama!
Information
Format: Paperback
Pages: 240 pages
Publisher: Scholastic US
Publication Date: 01/09/2012
Category: Comics and Graphic Novels
ISBN: 9780545326995
Free Home Delivery
on all orders
Pick up orders
from local bookshops
Reviews
Showing 1 - 5 of 29 reviews.
Previous | Next
Review by abbylibrarian
16/06/2015
Love the full color art and theatrical theme. A definite hit for fans of SMILE.
Review by EuronerdLibrarian
16/06/2015
This a fun, entertaining read. Telgemeier's illustrations are colorful and humorous. I'm sure current and former theater geeks will enjoy it. The "drama" was great and very typical of this time of life I thought--crushes (that change regularly) and gossip and the school play. And perhaps best of all, Telgemeier handles the discovery of self and sexual orientation really well. It reminded me of something that happened between two people in my own 9th grade class. The lgbtq aspect of the book is handled in an age-appropriate (middle grade), positive, and almost innocent way.
Review by fyrefly98
16/06/2015
Summary: Callie's a total theater geek, although she's happiest backstage. She's working as the set designer for her school's annual musical, and is determined to make this production the best ever. The theater department is never drama-free, especially in middle school, but the show must go on, despite contested casting decisions, unrequited crushes, new and old friendships, and practical limitations (no real cannons in the school auditorium!).Review: This book was super, super cute. And what's better, not saccharine cute, either, but believably, relatably, teenage-angst-riddenly cute. I thought this book was very relatable, in a way that was a nice blend of "sweetly nostalgic" and "ye gods, I'm glad I never have to go to middle school again." I was not really a theater person as a teen (can't act, and really can't sing, although I have some stage cred from dance), so I can't speak directly to that aspect of the story, but the "oh god I think he likes me do you think he likes me I think he does but if he likes me why hasn't he asked me to the dance"-type angsting feels pretty universal. Telgemeier does a great job of handling that angle of things, and a diverse cast of characters with an equally diverse set of relationships, with a nice emotional maturity. (Maybe actually a little too much maturity? My main problem with this book was that I thought the characters read as high-school-aged rather than middle-school; maybe I was just a late bloomer but I don't remember so many relationship woes in 7th grade.) In any case, though, this is a great read, sweet but down-to-earth and accessible to teens without talking down to them. I also love Telgemeier's art - colorful and expressive and cute and a great match to the tone of her story. 4.5 out of 5 stars.Recommendation: Definitely recommended, particularly to theater nerds (and former theater nerds), but also to anyone who is in the mood for a lighthearted and enjoyable read.
Review by zzshupinga
16/06/2015
Callie loves the theater. She knows she can't sing (she and her family discovered that early on) but she's a fantastic hand for the stage crew. This year she's the set designer and she's planning on creating a set that will put all others to shame. One small problem...they don't have much of a budget. And ticket sales just don't seem to be there yet. Plus there's all kinds of middle school drama around and she just might have her first crush or two! How will the play ever happen with all of the drama? But Callie and her friends will make it happen or collapse trying.Just like Smile this book is sure to have a bit of controversy because Raina writes about real life, such as relationships both male and female and male and male, which is bound to cause some readers angst. But here's the thing...everything that Raina writes about in this book is stuff that kids face in real life, regardless of whether parents and adults want to admit it. Raina accurately captures the feelings of confusion, infatuation, of the journey of discovering yourself, that we all experience in middle school and this is what her readers relate to. And it's why this is such a great book, because even as a male reader I related to Matt and his confusion over how to approach Callie (which is something that still confuses me to this day.)Raina's art style is deceptively simple, but I love it. It reminds of "The Kids Next Door" cartoon (and yes that's a good thing) with how things are drawn and the colors choosen. She quickly and accurately captures the movement of characters and brings them to life with the expressions on their faces. They're expressions that I remember seeing growing up (and still see today come to think of it) that make the characters feel real. The colors are spot on perfect as well. But my favorite scenes of the book come right at the beginning, when we see the stage curtain go up. It sets the tone for the entire book and makes everything fantastic.In short, Raina once again captures the essence of what it's like to grow up in the real world and she has created a charming and unforgettable story that will appeal to her readers. Raina's fans are sure to love this book just as much as Smile if not more. I give the book 4 out of 5 stars and I eagerly await the next book from Ms. Telgemeier as she continues to grow and thrive as an artist and a storyteller.
Review by rjmoir
16/06/2015
Passionate sixth-grade theater-lover Callie Marrin knows that you don't have to be center-stage to be a star. Determined to make the most of a middle-school budget, she happily throws herself into making the play's set and props the best they can possibly be. And though boy troubles have plagued her, things on the romance front begin looking up as well when she befriends talented twin brothers Justin and Jesse. Navigating the minefield of middle school relationships with aplomb, Telgemeier manages to create an engaging narrative without falling into the trap of melodrama. This graphic novel deals with coming to terms with oneself, whether by recognizing your homosexuality, or realizing that you can manage just fine on your own without romance. The simple, cel-shaded illustration style relies more on the emotions at play on characters' faces than extremely rendered panel layouts, which coupled with the realistic depiction of middle school life, gives the book an innocent feel without being patronizing. With an excellent twist that could have been obvious, if cultural understanding of gender roles didn't get in the way, Telgemeier crafts a tale that allows her characters to come into their own without criticizing them for the insecurities and doubts that plague them on the way there.