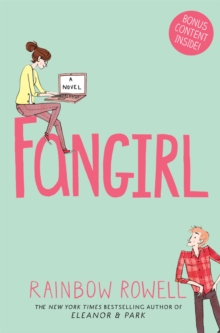 Description
Cath and Wren are identical twins, and until recently they did absolutely everything together.
Now they're off to university and Wren's decided she doesn't want to be one half of a pair any more - she wants to dance, meet boys, go to parties and let loose.
It's not so easy for Cath. She's horribly shy and has always buried herself in the fan fiction she writes, where she always knows exactly what to say and can write a romance far more intense than anything she's experienced in real life.Without Wren Cath is completely on her own and totally outside her comfort zone.
She's got a surly room-mate with a charming, always-around boyfriend, a fiction-writing professor who thinks fan fiction is the end of the civilized world, a handsome classmate who only wants to talk about words . . . And she can't stop worrying about her dad, who's loving and fragile and has never really been alone.Now Cath has to decide whether she's ready to open her heart to new people and new experiences, and she's realizing that there's more to learn about love than she ever thought possible . . .A love story about opening your heart by Rainbow Rowell, the New York Times bestselling author of Eleanor & Park.Fangirl now comes with special bonus material; the first chapter from Rainbow's irresistible novel Carry On.
Information
Format: Paperback
Pages: 480 pages
Publisher: Pan Macmillan
Publication Date: 30/01/2014
Category: Romance
ISBN: 9781447263227
Free Home Delivery
on all orders
Pick up orders
from local bookshops
Reviews
Showing 1 - 5 of 5 reviews.
Review by shelleyraec
16/06/2015
"Why do we write fiction?" Professor Piper asked.Cath looked down at her notebook.To disappear."Cather is comfortable escaping into the realm of anonymous fanfic where she can be free of her crippling social anxiety, and always know what to say and do. College is nothing but uncomfortable, and it is all she can do, while struggling with the separation from her twin sister, Wren, and her father, to make it to her classes. But gradually, Cath is forced out of her comfort zone, encouraged by her roommate Reagan and the irrepressible Levi, in this charming contemporary novel by Rainbow Rowell.I wavered between wanting to shake or hug Cath a lot of the time. Though I thought her sweetly shy and endearingly awkward, smart and often funny, her naivety sometimes stretched credulity. There were things I could relate to though, like this;"In new situations, all the trickiest rules are the ones nobody bothers to explain to you. (And the ones you can't google.) Like, where does the line start? What food can you take? Where are you supposed to stand, then where are you supposed to sit? Where do you go when you're done, why is everyone watching you?" (on why Cath avoids the dining hall)I remember that anxiety when I first went to university and having to force myself to 'feel the fear and do it anyway'. Cath really struggles with the changes college forces on her and it's a slow, sometimes frustrating, transformation but I think Rowell handles it realistically and thankfully she has Reagan to look out for her;"Cath rolled her eyes and looked at Reagan. "Do you really want me asking you stupid questions?""If they're about food, water, air or shelter - yes. Jesus, Cath, I'm your roommate."Reagan is the perfect roommate for Cath - often absent allowing her the time on her own she craves but doesn't hesitate to call Cath out on her 'crazy', in a blunt but non-judgmental way.I loved the relationship between Cath and Levi, so much awkward cuteness. Their romance is sweet, moving from acquaintance to friendship to lovers without feeling rushed or forced. And even though he screws up quite badly at one point, Levi with his goofy, ever-present smile, is just so appealing.I really wasn't a fan of the fan fiction excerpts, the whole Simon Snow/Harry Potter thing made me feel a little uncomfortable. And I have to admit I don't really get the whole fan fiction scene anyway, though I know it is huge and I respect Cath's passion for it. The plagiarism debate that takes place between Cath and her professor seemed disingenuous, I found it hard to believe, no matter her private opinion, that Cath would have thought her fanfic be acceptable for an assignment specifically asking for an original story.The scenes I particularly enjoyed included those where Cath was reading aloud to Levi, her Emergency Kanye Dance Party (though Kanye... ugh) and her and Reagan's cafeteria observations (a friend and I used to do that too).Unusually for YA/NA fiction, Cath's family has an important role in this story. Cath's identical twin, Wren, (get it? Cather..Wren) is also a freshman but unlike her sister Wren is eager to establish her independence and reinvent herself in their new environment, which means leaving Cath behind. The dynamics between the sisters is realistic I think, with its mix of love and resentment, complicated particularly by their oppositional feelings about their absent mother. The girls father, who is bipolar, is very much present through the book through phone calls, messages and trips home.Fangirl isn't perfect, but it is a sweet, funny and moving coming of age novel. I'd certainly recommend it for young adults on the cusp of graduation and those struggling with the transition to college, but it is also a charming read in it's own right for anyone who remembers stepping nervously into the college dining hall for the first time.
Review by TPauSilver
16/06/2015
Fandom as a think is something that people are becoming increasingly aware of so I suppose it's only a matter of time before books about it appear. I was kind of nervous when I picked up this book. It would be so easy to handle it badly, particularly in what is, after all, a coming of age book. This book handles is brilliantly. It's probably the closest thing to what being in fandom is actually like I've ever read. Fanficiton is seen as a part of Cath's life, not a good thing of a bad thing, just a thing she does. She grown with it and around it but not out of it which is awesome. There's actually a point of the fanficiton which isn't using it as a heavy handed mirror to what's happening in the story as so many books-in-books do. It's just a really good portrayal of fandom. And, outside of that, it's a really cute book about a girl who's a little awkward falling in love with a boy who's a little awkward in a different way and their coming together. She had shit in her life, she works through it. It's just a good book, okay! Read it!
Review by wyvernfriend
16/06/2015
More a 3.75 than a perfect 4, there were times when the Simon Snow stuff became a bit introusive, but in order to get some of the fascination with the fairly Harry/Draco slash that was going on it was useful.I cared about Cather and Wren and their friends and father. Cath was fun and interesting and I got her shyness and reluctance to change. Her life was interesting and she was interesting (I would have let Nick publish, and taken the shared credit myself)It's a story about going to college, facing being a singleton instead of being a twin and about dealing with expectations and growth, as well a romance.Enjoyed it, would like to read more by the author.
Review by Evalangui
16/06/2015
I ran into "Fangirl" while on a trip to visit Magdalena in Oxford and I almost didn't buy it. Mostly because I have a tendency to buy books and then end up reading fanfic instead. I love all kind of stories, but like Cather, I am entranced by a world you can revisit in different forms and with different writers at the steering wheel. A world that is already so REAL that reality pales in comparison. "Fangirl" is a story about a fangirl in real life, not in fandom, so it focuses on Cather's life in her new dorm, her roomate and her boyfriend, as well as her shifting relationship with her father and twin sister. Cather is being pushed to <br/>expand her universe to cover RL interactions besides virtual ones, which is all well and good, except that the virtual relationships that have (beside her family and a pseudoboyfriend from her hometown) sustained her for years, seem to be of little value to her (not a single name is given). For all she is a BNF, Cather doesn't have online friends, she has fictional ones: Simon and Baz. So if you are looking for something along the lines of 5U175 or Merlin/Pendragon then this isn't it. While I was admittedly more taken with the fragments of Simon Snow fic and books, I did enjoy Cather's story, particularly her understanding of writing. <br/><br/>WHAT FOLLOWS IS SPOILERY in a super analytical way:<br/><br/>Something else "Fangirl" has a lot of are disability issues. It seems to run in Cather´s family, her anxiety is disabling, while her father´s not "just a little manic" but can end up in hospital if he overdoes it.<br/><br/>Cather first decides that Levi isn´t worth her time because he claims not to be a "book person", which I have done in the past, but it turns out Levi has trouble reading books on his own (while he is great with audiobooks or other people reading to him). It is actually Levi´s need that brings them together, so while he´s been trying to play gentleman or knight in shining armour (walking her when it´s dark, driving her places, etc) it is her that rescues him in a time of dire need.<br/><br/>Like reading issue, the psychological problems are never truly fixed, the characters simply find ways to cope with them.
Review by lisa.isselee
10/11/2015
This book is life !<br/>I cried, I laughed and I could relate. <br/>Makes you wish there is a Levi out there for all of us !<br/>