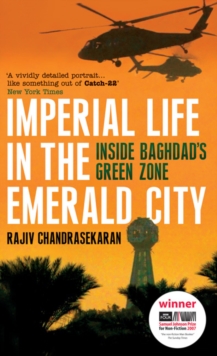 Imperial Life in the Emerald City : Inside Baghdad's Green Zone
Paperback
Description
From inside a surreal bubble of pure Americana known as the Green Zone, the US-led Coalition Provisional Authority attempted to rule Iraq following the fall of Saddam Hussein's regime.
Drawing on interviews and internal documents, Rajiv Chandrasekaran tells the memorable story of this ill-prepared attempt to build American democracy in a war-torn Middle Eastern country, detailing not only the risky disbanding of the Iraqi army and the ludicrous attempt to train the new police force, but absurdities such as the aide who based Baghdad's new traffic laws on those of the state of Maryland, downloaded from the net, and the twenty-four-year-old who had never worked in finance put in charge of revitalising Baghdad's stock exchange. "Imperial Life in the Emerald City" is American reportage at its best.
Information
Format: Paperback
Pages: 368 pages
Publisher: Bloomsbury Publishing PLC
Publication Date: 03/03/2008
Category: Middle Eastern history
ISBN: 9780747592891
Free Home Delivery
on all orders
Pick up orders
from local bookshops
Reviews
Showing 1 - 3 of 3 reviews.
Review by MisterJJones
16/06/2015
A damning indictment of the US military occupation, this book is both entertaining and informative. Although Chandrasekaran is highly critical of the US officials charged with running the country, he writes calmly and clearly, without resorting to the simplistic cliches one might expect.
Review by brokenangelkisses
16/06/2015
Disappointingly often, I find that I disagree completely with the exultant praises strewn liberally across the covers of books. 'Superb!' and 'Amazing!' often turns out to mean dull and ponderous, especially where non-fiction is concerned. Surprisingly, then, I feel compelled to state that I agree with every last one of the quotations printed on the cover of Chandrasekaran's exploration of the management of Iraq post-invasion. It is indeed 'black comedy' (John le Carre) and 'a tragic tale of naivety, hubris, waste and wilful ignorance' (Richard Wyre, Guardian). The almost unbelievable tales of how an American led, continually shifting coalition attempted to create a Western democracy inside a war-torn Middle Eastern country create a consistently engaging – and frustrating – read.The quotation from T. E. Lawrence placed at the front of this book sums up the writer's views on the Iraq reconstruction project perfectly, which is why I'm going to reproduce it in full here:'Do not try to do too much with your own hands. Better the Arabs do it tolerably than that you do it perfectly. It is their war, and you are to help them, not to win it for them. Actually, also, under the very odd conditions of Arabia, your practical work will not be as good as, perhaps, you think it is.'This, according to Chandrasekaran's work, is the error the Americans leading the reconstruction effort made. Faced with a country that lacked sufficient sources of clean water, a people desperate to access basic healthcare facilities and medications, the Americans tackled what they felt were the medical necessities: they began an anti-smoking campaign. Faced with the outmoded Iraq stock exchange, the minister in charge began drawing up complicated plans to computerise everything and bring the exchange up to 'international standards of transparency and efficiency' – in less than four months. All the Iraqs wanted was a building, some cell phones and a blackboard. Blinded by the idea that democracy and capitalism are things you can create by splashing some cash around, the Coalition Provisional Authority continued to flounder as the Iraq people began to lose patience with their supposed rescuers.Based on interviews and documentation completed during and since his months spent in Iraq, Chandrasekaran traces the activities of the CPA in sixteen well written chapters, which are interspersed with scenes from 'the Green zone', the secure area those governing Iraq lived and worked in throughout the occupation. The book is neatly split into two halves: 'building the bubble', which tends to feature the optimistic attitudes of the various ministers, and 'shattered dreams', which typically focuses on the CPA's increasing recognition of the volatility of Iraq.My thoughtsThe book is well laid out for reading and information assimilation purposes. There are two maps placed at the beginning, one of the Green Zone and one of Baghdad. These did come in useful later in the book, for example, when I wanted to quickly check where an attack on the zone was coming from. I find maps in non-fiction books worrying as it normally suggests they will be necessary to understanding the story and I just don't want to have to work that hard mentally (ooh, where is this character going now?). In non-fiction, however, they can be vital, and while that is not quite the case here, they were helpful to get a sense of place and size.The scenes chosen from the Green Zone 'show' a lot of the things that Chandrasekaran tells the reader at other points, so they work well to reinforce the key messages the writer wishes to express. For instance, the first scene demonstrates the lack of direction and organisation behind the rebuilding as soldiers wait peaceably to be told what to do with some zoo animals by the incoming administration staff. The brief episode (barely two pages long) creates an uneasy atmosphere due to the preceding two chapters, in which the writer has already outlined the lack of established plans. We never hear about the zoo animals again, which is possibly simply because there is too much else worth showing and telling, but also neatly suggests the lack of attention shown to Iraq lifestyles.Chandrasekaran usefully introduces each major player in this history with a brief biography containing all the necessary details – and sometimes, perhaps, slightly more than necessary. The people he describes are generally terribly well meaning, but they all become consumed by impossible projects. They are led by their sense of what would suit America, rather than any real understanding of life in Iraq. Alternatively, if they have developed thoughtful, well reasoned, implementable suggestions, they are immediately sent home to America and a thoroughly harebrained scheme is pursued instead.The truly chilling aspect of this book is the sense of what might have been, could have been, achieved, if only the sole criteria for leading the reconstruction efforts wasn't the political convictions of those recruited. Chandrasekaran demonstrates convincingly through his use of interviews and discussions that political connections were more important than qualifications or even experience. At times, I became quite frustrated as the journalist clearly outlined what the problems were, and then how the Americans tackled a completely different set of issues.Of course, it is difficult to understand a country if you never really experience it. Chandrasekaran shows how the decision to move into a republican palace and create a 'bubble' of American life on Iraq soil leads to a sense of dissociation from the place. Gradually, as tensions build, it becomes impossible to leave this sanctuary, which heightens the sense that they have become oppressors to the very people they are there to help. In this sense, it is a sad book, although Chandrasekaran never adopts an overtly pitying approach. In fact, one of his strengths as a writer is that he conveys his ideas clearly without needing to manipulate the reader in any obvious way.Of course, ultimately this is a work of journalism and different writers may have slightly different viewpoints, and everyone has their own agenda to follow, but the details that Chandrasekaran chooses usually speak for themselves. The titles of his chapters are quite forceful in emphasising his opinions, heading up the chunks of text with phrases like 'a fool's errand' and 'crazy, if not suicidal', but I did not otherwise feel overtly manipulated.The index is comprehensive and all notes are clearly referenced, so this could be a useful introductory work for someone exploring this period in recent modern history.ConclusionI enjoyed reading this well researched and thoughtful book, even though I found the decision making it recorded nearly unbelievable at times. I do not claim to know anything about running a country, but I'm fairly sure that buying desks and books for classrooms is usually of more use to students than organising departmental affiliations with American universities. Equally, I am no economist, but I would anticipate that having the stock market running again would be more of a priority for those waiting to take back their jobs than an immediate and prolonged revamping of all systems. Of course, I could be wrong. It seems that many good-hearted people were.Highly recommended.
Review by Miro
16/06/2015
This well written book is in part sad and in part entertaining but it in no way gives the necessary background information to the Iraq fiasco. It is a sort of reality TV "crash as it happens" without much or any context at all.The kind of questions that it raises but doesn't answer are:Did the US really invade Iraq by mistake (No WMD)?Why has this unbelievable error (?) not been investigated by Congress?What happened to the US intelligence services to get it so wrong?When no WMD were found how was the story so easily switched to "Building Democracy"?Why was no money or manpower seriously devoted rebuilding Iraq?Why does the American public so nonchalantly accept torture and kidnapping by its government and the mass removal of its right to privacy?Why was Chalabi continuously promoted despite having no support among the Iraqi people?Some "perhaps" answers that Chandrasekaran hints at in the book are that the whole rebuilding project was designed to fail (i.e. it was only a publicity exercise by the US government with no real interest in rebuilding). A good illustration of this on P.131 was the Corliss, Jackson and Carney meeting (tasked with privatizing Iraqi state industries) with German specialists to draw on their experience of the privatization of East German industry. The Germans told them that they had 8000 people working on the project and one of them asked, "How many do you guys have?" Corliss sadly replied that, "You're looking at all of them".The US government delegated after war planning to Douglas Feith, the Undersecretary for Defense for Policy who also handled the so called "Office of Special Plans" which mined intelligence reports for data to make the case that Saddam possessed weapons of mass destruction and was in cahoots with Al Queda.The book doesn't say it but this is the same Douglas Feith who co-authored a 1996 paper entitled "A Clean Break, A New Strategy for Securing the Realm" published by an Israeli think tank, the Institute for Advanced Strategic and Political Studies. The principal idea was to foment war in the Middle East and consequently destabilize Israel's enemies. The policy was adopted by the Israeli pro-settler right wing and Jewish activists in and around the Clinton and Bush administrations such as Richard Perle, David Wurmser and Feith himself (who all helped produce the original document). They identified as targets Iraq, Iran, Syria and Saudi Arabia, so why should Feith want to rebuild Iraq after it had been successfully destroyed?There's more on this in Sniegoski's remarkable book, "The Transparent Cabal" which can usefully be read together with this one to start to understand what was going on.