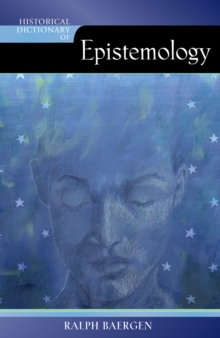 Historical Dictionary of Epistemology
Hardback
Description
Epistemology is the branch of philosophy that investigates our beliefs, evidence, and claims of knowledge.
It is one of the core areas of philosophy, and is relevant to an astonishingly broad range of issues and situations.
Epistemological issues arise whenever we recognize that there is a fact of the matter, but we do not know what it is, when we wonder about the future (or the past or distant places), when we seek answers in the sciences, and even in our entertainment (e.g., murder mysteries and comedies of misunderstanding). The Historical Dictionary of Epistemology provides an overview of this field of study and of the theories, concepts, and personalities through the use of a list of acronyms, a chronology, an introductory essay, a bibliography, and more than 500 cross-referenced dictionary entries, covering notable concepts, theories, arguments, publications, issues, and philosophers.
Students and others who wish to acquaint themselves with epistemology will be greatly aided by this reference.
Information
Format: Hardback
Pages: 312 pages
Publisher: Scarecrow Press
Publication Date: 26/06/2006
Category: Reference works
ISBN: 9780810855182