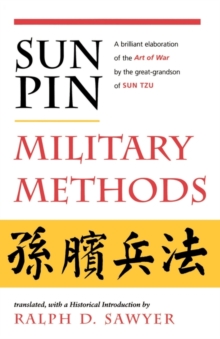 Sun Pin: Military Methods
Paperback / softback
Description
The enormous recent popularity in America of Sun-tzu's Art of War has heightened awareness of the great Chinese tradition of writing on theory and practice of war.
This tradition has always emphasized that warfare is as much the deployment of spiritual and mental forces as of combat forces, as much a matter of patience and attention as of brute strength.
As a result, new generations of readers have found many of its precepts applicable to forms of struggle far from any actual battlefield.While it has brought this tradition greater exposure, the reception of Art of War threatens to overshadow and obscure the other significant texts that followed in its wake.
Foremost among these is Military Methods of the Art of War, written in the fourth century B.C. by the purported great-grandson of Sun-tzu, the general Sun Pin.
Military Methods is both an extension of the strategic philosophy of the earlier work and a development of a new strategic style--one that enabled Sun Pin to guide the armies of the province of Ch'i to decisive victories over their enemies in the battles of Kuei-ling and Ma-ling.Long believed lost, the text of Military Methods was recovered from a Han dynasty tomb in 1972.
The salvaged original, fragmentary in nature, is divided into thirty-three sections covering such topics as unfavorable terrains, the origins of war, "guest" and "host" armies, "male" and "female" cities, and the ten strategic uses of cavalry.
To bridge the gaps in the original, translator Ralph D.
Sawyer, the leading authority on Chinese military history and its major texts, has provided extensive commentary and notes, as well as a detailed historical introduction.
Information
Format:Paperback / softback
Pages:411 pages
Publisher:Taylor & Francis Inc
Publication Date:27/04/1995
Category:
ISBN:9780813388885
Other Formats
PDF from £32.24
EPUB from £32.24
Hardback from £106.45