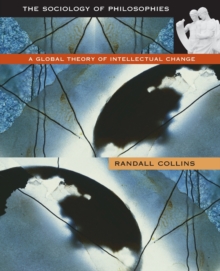 The Sociology of Philosophies : A Global Theory of Intellectual Change
Paperback
Description
A comprehensive history of world philosophy, this book is also a social history of global intellectual life.
Eschewing polemics, it presents a sophisticated view of the multiple cultures of world history, disintegrates stereotypes of regional cultures, and reveals how creativity is driven by a range of conflicting positions in each community.
We see what is sociologically universal about Western, Indian, and Asian intellectual life, as well as what combinations of social ingredients have produced their divergent pathways.
Through network diagrams and sustained narrative, Randall Collins traces the development of philosophical thought in China, Japan, India, ancient Greece, the medieval Islamic and Jewish world, medieval Christendom, and modern Europe.
What emerges from this history is a general theory of intellectual life, one that avoids both the reduction of ideas to the influences of society at large and the purely contingent local construction of meanings.
Instead, Collins focuses on the social locations where sophisticated ideas are formed: the patterns of intellectual networks and their inner divisions and conflicts. His theory describes how, when the material bases of intellectual life shift with the rise and fall of religions, educational systems, and publishing markets, opportunities open for some networks to expand while others shrink and close down.
It locates individuals - among them celebrated thinkers like Socrates, Aristotle, Chu Hsi, Shankara, Wittgenstein, and Heidegger - within these networks and explains the emotional and symbolic processes that, by forming coalitions within the mind, ultimately bring about original and historically successful ideas.
A self-reflexive sociological philosophy of intellectual life, Collins's work aims to open a path beyond relativsm and realism.
Information
Format: Paperback
Pages: 1120 pages, 15 maps, 57 line illustrations, 2 tables
Publisher: Harvard University Press
Publication Date: 15/03/2000
Category: Philosophy
ISBN: 9780674001879
Free Home Delivery
on all orders
Pick up orders
from local bookshops
Reviews
Showing 1 - 1 of 1 reviews.
Review by Mr.Durick
16/06/2015
An adequate reviewer of this book would be well rehearsed in the histories of Asian, Indian, and Ancient and late western philosophies. I am not that person. I read philosophy for the same reason the great philosophers studied it: to learn to lead the good life. I am very much not academic-like in my taking on philosophy. The author proposes that there are significant interactions among the personalities in a particular philosophical nation, so to speak. Some personalities wield more power than others. There is room in the attention space for a limited number of ideas to be considered. The author draws diagrams of personal connections and reviews a whole lot of philosophy to a depth to which I have never been. I have, however, done some serious reading of philosophy, so I could understand it, although I, shudder, had to work at it. I have noticed that Plato and much of Hinduism have similar takes on the cyclicality of things that is not in, say, the Bible. From the table of contents of this book, I thought that it might address the possibility of connection between Greek and Indian thinking. He treated each national, so to speak, area as independent or largely independent. That is to say, my interest was not addressed. Nevertheless he had enough to say of each area that my attention returned every evening to the book until I was through it, and I feel well served by it. He is a sociologist so he can mention the social construction of mathematics with a straight face, but there is no gobbledygook. His sentences take more work than the sentences of, say, Bertrand Russell, but they make sense as for example, "Along with the rise of Vaishnavism and its inner splits and its polemics with Advaita had come the spread of argument about epistemological validity into every intellectual camp." I am finding that the book that does address my interest in the Indian and Greek connection, <I>The Shape of Ancient Thought</I>, is as difficult to read, again because of the long sentences and the number of new ideas to be juggled. The well rehearsed reader should not have as hard a time with either.