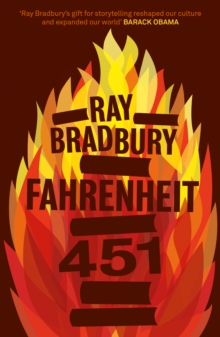 Description
The hauntingly prophetic classic novel set in a not-too-distant future where books are burned by a special task force of firemen. Guy Montag is a fireman. His job is to burn books, which are forbidden, being the source of all discord and unhappiness.
Even so, Montag is unhappy; there is discord in his marriage.
Are books hidden in his house? The Mechanical Hound of the Fire Department, armed with a lethal hypodermic, escorted by helicopters, is ready to track down those dissidents who defy society to preserve and read books. The classic novel of a post-literate future, `Fahrenheit 451' stands alongside Orwell's `1984' and Huxley's `Brave New World' as a prophetic account of Western civilization's enslavement by the media, drugs and conformity. Bradbury's powerful and poetic prose combines with uncanny insight into the potential of technology to create a novel which over fifty years from first publication, still has the power to dazzle and shock.
Information
Format: Paperback
Pages: 192 pages
Publisher: HarperCollins Publishers
Publication Date: 30/06/1993
ISBN: 9780006546061
Other Formats
Hardback from £11.79
EPUB from £4.24
eAudiobook MP3 from £19.28
Free Home Delivery
on all orders
Pick up orders
from local bookshops
Reviews
Showing 1 - 5 of 19 reviews.
Previous | Next
Review by stipe168
16/06/2015
it was a pleasure to burn. dystopian society that burns books. firefeighters causing fires. i don't remember this one clearly, but i remember it was awesome.
Review by numbert
16/06/2015
One of the very few older books ive enjoyed. This book is a great "lesson" book that teachs the importence of reading. I read this book originally as an English assignment which is a turn off from the start because i hate to read for anything but pleasure, but i ended up enjoying it profusely. It puts good perspective on the future,society, and reading. I highly recomend it to anyone that has read Tuesdays With Morrie, The Giver, or The Gospel According to Larry. It is also a great read for anyone looking for some meaning in thier books.
Review by tcarter
16/06/2015
I have reread this recently for the first time in some years. I think that it may have been a mistake to read the preface before reading the book. Having read Bradbury's description of how the book was written, the patching together of 3 or 4 original ideas in a 9 day writing frenzy, I was more aware of the faults in the work that this approach has engendered. The foundational ideas include insights of genius, and the energy of the writing comes through in a high octane style. However, in places it feels overwritten and the plot is thin to the point of transparency in places. I almost wish that he had spent significantly longer, taming some of the language and deepening the exploration of some of the themes. But, maybe that would have extinguished the spark that burns so bright.
Review by stillbeing
16/06/2015
I've been told for years I should read this one (this copy was actually a present from a friend), and I remember watching the film with my Mum when I was around 12 or 13 (she had studied it when she was in high school), so I figured I may as well get around to it!But I guess this is a classic example of something being a little too talked-up about (in my opinion). There were some great moments and really interesting ideas - and I can see why this novel falls in the cannon of dystopian literature - but the prose was so awkward, confusing and even laughable at times it really made it distracting (for example: "He wore his happiness like a mask and the girl had run off across the lawn with the mask and there was no way of going to knock on her door and ask for it back"). The line between what is actually happening and Montag's impression of what is happening is very blurry at times, making things very confusing; although I must say, the "Seashells" - tiny radios people wear in their ears - really hit the mark. iPods through and through.Yes, there's a story here that has made an impact, but it's hard work excavating it. Thankfully, the novel is slim and the plot fast moving so I didn't get to weighted down in the excess.(This edition does come with an afterword by the author, which actually does explain why the novel is the way it is too. Sometimes crazy, passionate writing doesn't always give the best finished product; a bit of time and refining wouldn't have gone astray)
Review by stevejwales
16/06/2015
The 'Snowpocalypse' outside or whatever they're calling it now on the news has put me in the mood for some dystopian science-fiction (possibly followed by some post-apocalyptic? Why not!). Actually, the news programmes on TV relate to what seems most striking this time I've reread Fahrenheit 451 - the inanity and inconsequentiality of what's left of society. What is more representative in real life of the fictional pointless nonsense that Mildred watches on the wall-screens than entire news broadcasts that only tell us what we would know if we just looked out of the window? Specifically: it's snowing!<br/><br/>Of course there is the obvious issue of censorship with the book-burning firemen, but what is interesting is the society that has produced them. As Beatty tells Montag, it wasn't the government that forced the firemen on the people, rather it was the people that wanted them. What may have begun as a minority-empowering idea quickly progressed to 'political correctness gone mad' as our real-life media would put it: anything that potentially could offend anyone must be destroyed, thus all books are burned and the media talk about nothing important.<br/><br/>While it is easy to draw parallels between the society depicted in Fahrenheit 451 and our own, there is one important difference: it has never been easier to share information, or stories, thoughts and opinions. Even if a country started burning all its books, at least the majority of their content could be sent via the internet and safely preserved on the other side of the world. Meanwhile, more-or-less instant communication means that people can get together more easily to protest against and hopefully stop harmful initiatives such as the book burning. This doesn't mean, though, that sitting in front of a computer is the answer to everything: instead of just reading about or watching things, we should all sometimes take out our "Seashell"-like earphones and, like Clarisse McClellan, go out and experience our world first-hand.