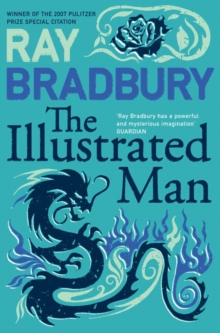 The Illustrated Man
Paperback
Description
A classic collection of stories - all told on the skin of a man - from the author of Fahrenheit 451. If El Greco had painted miniatures in his prime, no bigger than your hand, infinitely detailed, with his sulphurous colour and exquisite human anatomy, perhaps he might have used this man's body for his art... Yet the Illustrated Man has tried to burn the illustrations off.
He's tried sandpaper, acid, and a knife. Because, as the sun sets, the pictures glow like charcoals, like scattered gems.
They quiver and come to life. Tiny pink hands gesture, tiny mouths flicker as the figures enact their stories - voices rise, small and muted, predicting the future. Here are sixteen tales: sixteen illustrations... the seventeenth is your own future told on the skin of the Illustrated Man.
Information
Format: Paperback
Pages: 304 pages
Publisher: HarperCollins Publishers
Publication Date: 13/11/1995
Category: Classic science fiction
ISBN: 9780006479222
Free Home Delivery
on all orders
Pick up orders
from local bookshops
Reviews
Showing 1 - 2 of 2 reviews.
Review by danconsiglio
16/06/2015
Bradbury is a beast. Good even if you don't like sci/fi.
Review by Floratina
16/06/2015
READ IN ENGLISH<br/><br/>I don't remember exactly why I bought this book, and I think it has been on my TBR for the last two years. But as I'm trying to actually read my TBR, I came across the Illustrated Man by Ray Bradbury, most famous of course for his novel Fahrenheit 451.<br/><br/> <br/><br/>And, I really was surprised at how much I liked this book! (I also like Fahrenheit 451, now I think of it), but this novel is more like a collection of short stories (the central story is fascinating, but very small, and from a given point, it doesn't even appear between the short stories any more). I'm not a particular fan of short stories, but some of these were really good.<br/><br/> <br/><br/>Most of them were SF, though some of them tended to be more like Horror-SF (if something like that exists?). Written in 1951, there is a fascination of atom bombs, biological warfare, space missions, the general destruction of live as we know it and (because this is Ray Bradbury) book burnings. Nice to read it now, as some of the stories are set in like 1969 or 2005, it's funny what people thought might have become of us by then =)<br/><br/> <br/><br/>I'd not thought I would like this book so much, and now I actually want to read even more books by Ray Bradbury.