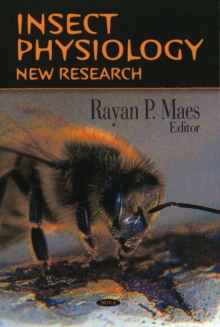 Insect Physiology : New Research
Hardback
Description
Insect physiology includes the physiology and biochemistry of insect organ systems.
Although diverse, insects are quite similar in overall design, internally and externally.
The insect is made up of three main body regions (tagmata), the head, thorax and abdomen.
The head comprises six fused segments with compound eyes, ocelli, antennae and mouthparts, which differ according to the insect's particular diet, e.g. grinding, sucking, lapping and chewing. The thorax is made up of three segments the pro, meso and meta thorax, each supporting a pair of legs which may also differ, depending on function, e.g. jumping, digging, swimming and running. Usually the middle and the last segment of the thorax have paired wings.
The abdomen generally comprises eleven segments and contains the digestive and reproductive organs.
This book brings together research from around the globe in this field.
Information
Format: Hardback
Pages: 327 pages, b/w & colour photos, tables & charts
Publisher: Nova Science Publishers Inc
Publication Date: 01/10/2008
Category: Evolution
ISBN: 9781604569131
Free Home Delivery
on all orders
Pick up orders
from local bookshops