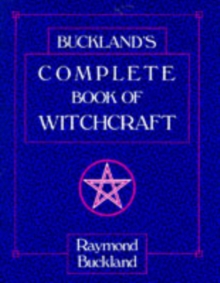 Complete Book of Witchcraft
Paperback
Description
This volume is a complete resource to the study and practice of modern, non-denominational Wicca.
The book is an illustrated, self-study course for the solitary or group.
Included are rituals; exercises for developing psychic talents; information on all major "sects" of the craft; and sections on tools, beliefs, dreams, meditations, divination, herbal lore, healing and ritual clothing.
Information
Format: Paperback
Pages: 272 pages, ill
Publisher: Llewellyn Publications,U.S.
Publication Date: 31/12/1986
Category: Witchcraft & Wicca
ISBN: 9780875420509
Free Home Delivery
on all orders
Pick up orders
from local bookshops
Reviews
Showing 1 - 5 of 6 reviews.
Previous | Next
Review by Sunfell
16/06/2015
This book is one of the 'beginner' books often found in Pagan collections. It's not a bad book- there's plenty of good info in it, but more recent books have much more refined information in it. Great for people coming out of strict religions- lots of rules. For those of us who aren't terribly fond of 'thou shalts', the book is more limited in its scope, but it's still a decent snapshot of How Things Were (and aren't any more) in Wicca.
Review by The_Butterfly_Girl
16/06/2015
I did not enjoy this book. That is to say that perhaps it is because I am not practicing under any specific tradition, I found the writing very limiting (i.e. "you MUST do this or you MUST do that").I am aware that traditions do require certain things to make them thus - but this is definitely not the way I practice.
Review by TheBurningBookshelf
16/06/2015
A workbook type book based on Wiccan beliefs mainly. Very good for a solitaire witch. (Xyaida)
Review by vanillaimpaired
16/06/2015
Not a bad book for an information source but not something I would follow word for word. Basically purchased as a reference tool when needed for some aspects and a good introductory book for those who are curious about the Garderian path. Not suited for those who are solitary practitioners, more directed at coven work but all the same informative.
Review by earthlistener
16/06/2015
A rather famous book and it has become a classic among books over Wicca and witchcraft since it was first published. It covers a lot of material to say the least. Perhaps the only big true downside to this is its very age. The historical viewpoints on the origins of Wicca and the general viewpoint over all has changed a fair amount as it has spread and grown. Because of the change this book is perhaps not the best book for a beginner to read right off the bat. Regardless though its still a fairly good book which covers a wide verity of topics in a kind of workbook style.