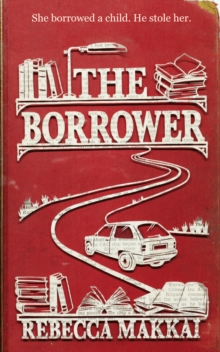 Description
In this delightful, funny and moving first novel, a librarian and a young boy obsessed with reading take to the road.
Lucy Hull, a 26-year-old children's librarian in Hannibal, Missouri, finds herself both kidnapper and kidnapped when her favourite patron, 10-year-old Ian Drake, runs away from home.
The precocious Ian is addicted to reading, but needs Lucy's help to smuggle books past his overbearing mother, who has enrolled Ian in weekly anti-gay classes.
Lucy, a rebel at heart beneath her librarian's exterior, stumbles into a moral dilemma when she finds Ian camped out in the library after hours, with a knapsack of provisions and an escape plan.
Desperate to save him from the Drakes, Lucy allows herself to be hijacked by Ian.
The odd pair embark on an improvised road trip from Missouri to Vermont, with ferrets and an inconvenient boyfriend thrown in their path.
Along the way, Lucy struggles to make peace with her Russian immigrant father and his fugitive past, and is forced to use his shady connections to escape discovery.
But is it just Ian who is running away? Who is the strange man on their tail? And should Lucy be trying to save a boy from his own parents?
Information
Format: Paperback
Pages: 336 pages
Publisher: Cornerstone
Publication Date: 07/07/2011
ISBN: 9780434021000
Other Formats
Paperback from £6.85
EPUB from £3.99
Free Home Delivery
on all orders
Pick up orders
from local bookshops
Reviews
Showing 1 - 4 of 4 reviews.
Review by teresa1953
16/06/2015
This is a charming novel for book lovers everywhere.Lucy is a librarian in Hannibal, Missouri where she works in the children's section. Ian Drake is a complex ten year old. Very intelligent….precociously so….he is addicted to reading. His mother is strange, to say the least, and vets everything Ian reads. She is convinced that Ian is a budding gay and sends him to religious anti-gay classes to "cure" him of his supposed budding sexuality. In summary, Ian is closeted and controlled and Lucy feels deeply sorry for him.Then one day, Lucy finds Ian has been camping out in the library and she is swept along with his plans of escaping from his parents. With his back pack of belongings and a tall story about visiting his "grandmother," Ian persuades Lucy to set off on an improvised road trip. Despite Lucy's fear of being charged with kidnapping, off they go to Vermont. Their adventures are beautifully portrayed and the characters they meet up with along the way are well drawn. Lucy's on off boyfriend, Glenn, joins them for part of the journey, but the pair are happy to offload him at the earliest opportunity. They also visit Lucy's Russian parents which is very entertaining.Throughout their journey, Lucy wrestles with her conscience. She realises, of course, that what she is doing is foolhardy and very wrong, but there is something urging her ever onwards. Ian, meanwhile, insists on taking over the map reading. There is also a mysterious stranger following them, in an identical vehicle to the one Lucy is driving. Although their trip only spans 10 days, it seems much longer and the conclusion of the novel is very touching. The book is also very funny, in parts, and I enjoyed the frequent references to children's and adult's literature along the way.I loved it and would highly recommend itThis book was made available to me, proir to publication, for an honest review.
Review by hashford
16/06/2015
I chose this book because I thought it would be quirky and unusual - and I wasn't disappointed! Part "road trip", part "coming of age" story - I was captivated from start to finish. Lucy Hull is a children's librarian in Hannibal Missouri, and she has a soft spot for 10 year old Ian Drake. Ian is bright and outgoing, and loves reading; but he has an overbearing mother who wants to control what books he reads. Lucy connives with Ian to smuggle 2unsuitable" books into his backpack when his babysitter isn't looking. One morning Lucy arrives at work early and finds that Ian has been in the library all night. Lucy tries to phone home (but can't find the right number); she then tries to drive him home ... but somehow - and she's not quite sure how she lets this happen - she ends up letting Ian kidnap her (or is it Lucy who kidnaps Ian???). Never predicatable, this book takes several twists and turns before we get to the end of the tale. Yes, you do have to suspend disbelief now and again. AND suppress the urge to give Lucy a good shake and tell her to get a grip! But, overall it's a page-turner of a book, and I would recommend it to adults and teenagers who are looking for something a little bit different.
Review by alexrichman
16/06/2015
A children's librarian helps her favourite visitor to run away in an utterly implausible adventure written with enough sweetness to keep me on board - whisper it quietly, but I enjoyed the road-trip more than Lolita's. A superbly satisfying schmaltzy ending covers for the conveniently-resolved plot.
Review by phoebesmum
16/06/2015
A children's librarian strikes up a friendship with a child whose fundamentalist parents' beliefs ban him from all the best books. When he runs away from home, she somehow finds herself his accomplice. I wish I had liked this more than I actually did, but the woman was wet, the child annoying, and the situation resolved not by any type of ingenuity but by the intervention of the woman's wealthy, not to say criminal, father.