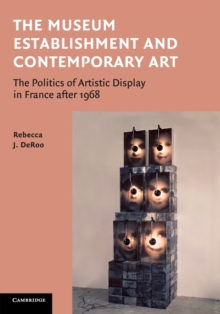 The Museum Establishment and Contemporary Art : The Politics of Artistic Display in France after 1968
Paperback / softback
Description
This book provides an in-depth account of the protests that shook France in 1968 and which served as a catalyst to a radical reconsideration of artistic practice that has shaped both art and museum exhibitions up to the present.
Rebecca DeRoo examines how issues of historical and personal memory, the separation of public and private domains, and the ordinary objects of everyday life emerged as central concerns for museums and for artists, as both struggled to respond to the protests.
She argues that the responses of the museums were only partially faithful to the aims of the activist movements.
Museums, in fact, often misunderstood and misrepresented the work of artists that was exhibited as a means of addressing these concerns.
Analyzing how museums and critics did and did not address the aims of the protests, DeRoo highlights the issues relevant to the politics of the public display of art that have been central to artistic representation, in France as well as in North America.
Information
Format: Paperback / softback
Pages: 284 pages
Publisher: Cambridge University Press
Publication Date: 31/03/2014
ISBN: 9781107656918