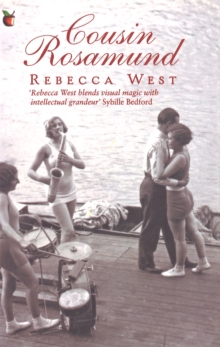 Cousin Rosamund
Paperback
Description
Cousin Rosamund unfolds the final chapters of the saga that began with The Fountain Overflows, Rebecca West's acknowleged masterpiece, and continued with This Real Night.As the glitter of the 1920s gives way to the Depression, Rose and Mary find themselves feted and successful pianists. But their happiness is diminished by their cousin's unfathomable marriage to a man they perceive as grotesque. Lacking her cousin Rosamund's intuitive understanding, Rose looks to the surrogate wisdom of Mr Morpurgo, while quiet days with Aunt Lily and the Darcys at their pub on the Thames offer respite from the tensions of foreign concert tours. With approaching middle age Rose gains in perspective. Yet the most exciting development still awaits her: the discovery of and delight in her own sexuality...
Information
Format: Paperback
Pages: 304 pages
Publisher: Little, Brown Book Group
Publication Date: 31/12/1988
ISBN: 9780860688297
Free Home Delivery
on all orders
Pick up orders
from local bookshops
Reviews
Showing 1 - 1 of 1 reviews.
Review by nmhale
16/06/2015
When Rebecca West wrote The Fountain Overflows, she indicated that it was the first part of a family saga, intended to be told in four parts. The first novel was the only one to be completed and published. She did, however, write more material, and revised a good portion of it, almost enough to fill the projected next two novels in the series. This book is the third, with roughly two thirds of the material revised and the last third still in an unfinished stage (although not sloppy, apparently West revised as she wrote, but always went through a final polishing before considering it revised). The story also stops short before its projected conclusion, but fortunately the ending, as is, feels appropriate. That is a rather complicated introduction, but the history of the books is unusual, and a review that doesn't take into consideration the nature of its composition is doing the author a disservice. The reason I was drawn to keep reading this fascinating story was that the characters are amazing and the writing is lyrical and engrossing. We start with the Aubrey family when Rose, the narrator, is just a child, and they are still going through the alternately wonderful and harrowing turbulence of life with their father. In this book, Rose is an adult, just entering middle age. She has become the famous pianist that she always knew she would be - but with that child's naive optimism which made me wonder, in the first book, if her success was as assured as she thought - and she is trying to live her adult life in cherishing those relationships she made in childhood but not forming any new ones. She feels that they are the only people she can really love. While I missed the child's perspective from the first novel, I still like Rose and her commentaries are fresh and feel real. I enjoyed reading about so many of the secondary characters that we met in the first novel and who reappear in these pages, and was saddened by the few characters who had died and were no longer present. As I wrote earlier, the characters in this series are what draw me in to the lovingly crafted world that West presents, and they are complex and fascinating, whether they people mundane spheres or more exotic ones. Our primary character, though, is still Rose, who has tried to maintain in her life a perpetual childhood, not believing that anything can compare to the magical days of her youth. In this book, two events shake her world so drastically that she is forced to move into the world of adulthood once and for all. The first is the tragic mismatch marriage of her best friend, Rosamund. This event leaves Rose and her sister in a tailspin of confusion and despair, and it isn't until she falls in love with Oscar that she is able to come to terms with the absolute mystery surrounding Rosamund's choice. Oscar, of course, is the other significant event to change her life. He is the first person she has loved since childhood, and the first person that she loves in a romantic, sexual way. The change that this causes in her life is so dramatic that she almost capsizes emotionally; however, she is able to accept her new feelings and move into a new stage of maturation. I was happy that Rose could find a new source of happiness, after the light that Rosamund brought to her life was extinguished.The writing continues to be vivid, detailed, and poetic. West crafts the historic place and time of Rose's England with grace and verisimilitude, and reading her writing is a treat. The themes of the first book continue on: good and evil vying against each other, the power of art, and also its limitations. I'm sorry that West never finished her imagined series, because I have enjoyed every bit that I've read. At least we have a synopsis of the final volume in the afterword that comes with this book. I am definitely interested in checking out other novels she has published, based on this Aubrey family saga.