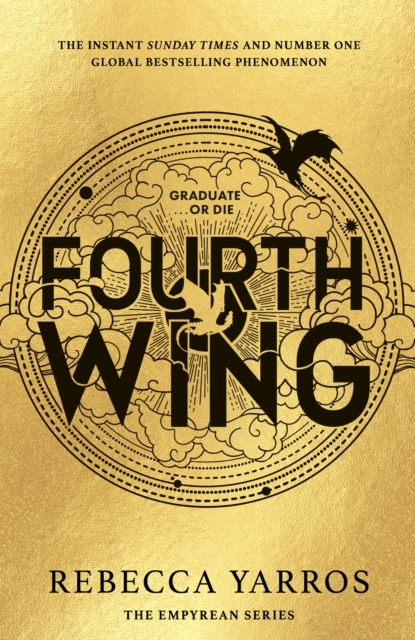 Fourth Wing : DISCOVER THE INSTANT SUNDAY TIMES AND NUMBER ONE GLOBAL BESTSELLING PHENOMENON!
Hardback
Description
THE INSTANT SUNDAY TIMES AND NUMBER ONE GLOBAL BESTSELLING PHENOMENON!
Don't miss out on the series that everyone can't stop talking about!'This book contains an addictive, drug like essence that will make you relinquish all responsibility until the very last word.
Do not say I didn't warn you' - Glamour'I didn't sleep, I didn't eat, and when I finished, I had the overwhelming urge to just start it all over again' ***** READER REVIEW'The Hunger Games meets Harry Potter and the Goblet of Fire, need I say more?'- Stylist'If I can convince you to read one book I recommend it would be this one' ***** READER REVIEW'You know when you finish a book, and it leaves an ache in your chest because it was so good, and now it's over?
That's exactly how I feel after finishing Fourth Wing' ***** READER REVIEW __________________________________________ Welcome to the brutal and elite world of Basgiath War College, where everyone has an agenda, and every night could be your last . . . Twenty-year-old Violet Sorrengail was supposed to enter the Scribe Quadrant, living a quiet life among books and history.
Now, the commanding general - also known as her tough-as-talons mother - has ordered Violet to join the hundreds of candidates striving to become the elite of Navarre: dragon riders. But when you're smaller than everyone else and your body is brittle, death is only a heartbeat away . . . because dragons don't bond to 'fragile' humans. They incinerate them. With fewer dragons willing to bond than cadets, most would kill Violet to better their own chances of success.
The rest would kill her just for being her mother's daughter - like Xaden Riorson, the most powerful and ruthless wingleader in the Riders Quadrant. She'll need every edge her wits can give her just to see the next sunrise. Yet, with every day that passes, the war outside grows more deadly, the kingdom's protective wards are failing, and the death toll continues to rise.
Even worse, Violet begins to suspect leadership is hiding a terrible secret. Alliances will be forged. Lives will be lost. Traitors will become allies . . . or even lovers. But sleep with one eye open because once you enter, there are only two ways out: graduate or die. Fourth Wing is only the beginning. The deadly second year at Basgiath awaits. Preorder, Iron Flame, the eagerly anticipated sequel in the Empyrean series now!__________________________________________ OVER A QUARTER OF A MILLION READERS HAVE ALREADY GIVEN FOURTH WING FIVE STARS.
ARE YOU READY TO ENTER THE WORLD OF BASGIATH WAR COLLEGE? 'This book is probably the best fantasy book I have ever read' 'A MILLION STARS!!!!!!!!!
Everything about this book was incredible' 'FIVE. FREAKING. STARS. There is no universe where I could give this book any less of a rating' 'There are some stories you read and enjoy but every so often you come across one that just obliterates everything and takes over your entire being within a few pages and becomes your world and personality.
Well, this is the one''The world building in this was phenomenal.
I lived, breathed and became a part of the college'OTHER BOOKS IN THE EMPYREAN SERIES:- FOURTH WING- IRON FLAME (coming 07.11.2023)
Information
Format:Hardback
Pages:512 pages, one b/w map to be licensed for WEL by Entangled
Publisher:Little, Brown Book Group
Publication Date:02/05/2023
ISBN:9780349436999
Other Formats
EPUB from £11.99
Paperback / softback from £9.99
Information
Format:Hardback
Pages:512 pages, one b/w map to be licensed for WEL by Entangled
Publisher:Little, Brown Book Group
Publication Date:02/05/2023
ISBN:9780349436999
Also in the The Empyrean series