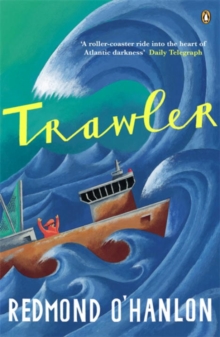 Trawler : A Journey Through the North Atlantic
Paperback
Description
Redmond O'Hanlon describes his extraordinary three-week trip on an Orkney trawler as it journeys far into the north Atlantic in search of its catch.
Young skipper Jason Schofield has a 2 million pound overdraft on his boat, the Norlantean, which is why he has to go out in a Category One Force 12 hurricane when the rest of the Scottish fleet has run for shelter.
O'Hanlon may not be much help when it comes to seamanship - in the words of one of the crew, he doesn't know his arse from his tit - but he is able to wax lyrical on the amazing deep-sea fish to be found north of the Wyville Thomson Ridge: greater argentine, flying squid, blue ling, the truly disgusting hagfish and many other exotics.Combining humour with erudition, O'Hanlon has written a vivid and compulsively readable account of a journey that for sheer terror beats all his previous adventures.
Information
Format: Paperback
Pages: 368 pages
Publisher: Penguin Books Ltd
Publication Date: 03/06/2004
Category: True stories
ISBN: 9780140276688
Free Home Delivery
on all orders
Pick up orders
from local bookshops
Reviews
Showing 1 - 4 of 4 reviews.
Review by cliffagogo
16/06/2015
Somewhere halfway through this hugely entertaining book, you realise that what had seemed at first to be a straightforward bit of reportage, has morphed into a kind of ordeal for O'Hanlon. The vivid accounts of life on board ship – the sleep deprivation, the sense of claustrophobia, the huge storms – are all played out in a stream of consciousness as the author tries to make sense of a very different existence.
Review by klarusu
16/06/2015
I was somewhat disappointed with this book. I guess that I expected humour but instead found O'Hanlon basically annoying. I found his somewhat superior author's voice masked the interesting elements of the life of the trawlermen he worked alongside. Not a bad book, I guess, but one that was much less than it could have been.
Review by mojacobs
16/06/2015
At first I thought this a wonderful read, very interesting, very funny, very well written. Towards the end, the long gushing flows of conversation that were so exhilirating in the beginning became really annoying - as they must have been for the people concerned, perhaps? And the lectures on all things fishy got less and less interesting too... Still, I had no trouble finishing the book, and I enjoyed the first 2/3 a lot."
Review by nessreader
16/06/2015
More testosterone than you'd think would fit on a page.Exhausting to read, trying portray sleep deprivation via the device of runon sentence. I wanted to know how it felt to work there, and he told me, and I wanted to know a layperson take on the fishery industry, but he was still on at the runon sentence of horror, + I wanted to know about the background of the trawlermen, but we were all still remorselessly immersed in Redmond's psyche. I am dying to know what his shipmates made of the eventual book.