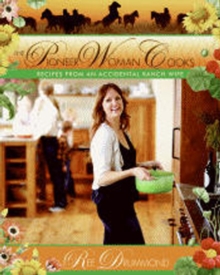 The Pioneer Woman Cooks : Recipes from an Accidental Country Girl
Hardback
Description
#1 New York Times BestsellerPaula Deen meets Erma Bombeck in The Pioneer Woman Cooks, Ree Drummond's spirited, homespun cookbook.
Drummond colorfully traces her transition from city life to ranch wife through recipes, photos, and pithy commentary based on her popular, award-winning blog, Confessions of a Pioneer Woman, and whips up delicious, satisfying meals for cowboys and cowgirls alike made from simple, widely available ingredients.
The Pioneer Woman Cooks-and with these "Recipes from an Accidental Country Girl," she pleases the palate and tickles the funny bone at the same time.
Information
Format: Hardback
Pages: 256 pages
Publisher: HarperCollins Publishers Inc
Publication Date: 27/10/2009
Category: General cookery & recipes
ISBN: 9780061658198
Free Home Delivery
on all orders
Pick up orders
from local bookshops
Reviews
Showing 1 - 5 of 14 reviews.
Previous | Next
Review by carma91
16/06/2015
I've been a fan of Ree's blog for a while, so when I found out that she was going to have a cook book over her recipes, plus some of her photography, I was excited and I knew I'd have to at least check it out. I ended up getting it for Christmas, and I'm really glad that I have it! It's a nice hard cover, which is nice. One thing I really love about the recipes are all of the pictures. I love being able to see what the food looks like, and she goes so beyond that by having pictures for every step so you know if you're on the right track. The humorous comments in the instructions are nice too. Before I had gotten the book, I had already made lots of recipes from her blog so I can tell you that her recipes are really good (even though they might not always be the healthiest, haha). Basically, it's a very nice, entertaining cookbook with lots of good recipes.
Review by bermudaonion
16/06/2015
If you're not familiar with The Pioneer Woman, you need to be! This woman is amazing! She's a ranch wife and manages to maintain an amazing blog, homeschool four kids, take gorgeous pictures and create a beautiful cookbook.I was mesmerized by The Pioneer Woman Cooks by Ree Drummond when I got it. In this wonderful cookbook Ree explains how she became The Pioneer Woman, shows a little of ranch life and shares some of her great recipes. The beauty of the recipes is that they're created from simple ingredients that anyone can find and they're for dishes your family will really eat. Both Carl and I found lots of recipes that we want to try – sour cream pancakes, Marlboro Man's favorite sandwich, spicy pulled pork, macaroni and cheese, comfort meatballs, just to name a few. There are only one or two recipes in here that don't appeal to either one of us.One of the great things about the recipes in The Pioneer Woman Cooks is all of the pictures – there is a photograph for each step of the recipe. Because of this, I think this cookbook would be great for beginning as well as experienced cooks. Oh, and did I mention that Ree took all of the photographs in this book herself? I was amazed.Since cheese and olives are the two basic food groups and this recipe looked easy, I decided to fix Olive Cheese Bread first, and I have to tell you this recipe is to die for.
Review by cemming
16/06/2015
If you've followed her blog as I have, you'll be pleased to find that author Ree Drummond sticks to her characteristic mix of wry humor and butter by the pound. I'm glad. It's been working for her. In The Pioneer Woman Cooks, her cookbook slash photographic memoir, Ree brings to life the story of her city upbringing with her farm woman reality, currently wrangling four kids and a husband on a working cattle ranch in Oklahoma. Mesmerizing photographs of family members, get-togethers and muddy farm work blend well with humorous anecdotes — and serve to show you why her family is so hungry!Cute, ranch-laden, photo-intense asides with amusing anecdotes leave you longing for a house on the prairie in a way that 'Little House on the Prairie' episodes never did. Miss Mustang International, my favorite of these sections, showcases the farm's haughtiest mares, snobby and cool as horses can be, deadlocked in imaginary pageantry.What apparently didn't work was the step-by-step visual instructions Ree compiles for each recipe. Drummond's gorgeous pix can be viewed on her website, and it's this stunning photography that leaves viewers drooling for more. Normally. In this publication, however, her photos fall flat. Whether an error in photo correction or on press, it's a sad reality that the green tint of the tutorial pictures makes the food less than appetizing. (Let's flag this for correction on the second printing, Harper Collins. You're far too professional for this type of error. Unless it's just my copy. Hmm.)Now I bought the book despite its meat-centered mains partly to support a fellow blogger, but mostly because Drummond's recipes can be counted upon to work. This is turning out to be a rare feat in cookbookery. For obvious reasons, I won't comment on the chicken-fried steak or meatloaf recipes, sticking instead to ones I've already tried.PW's Creamy Mashed Potatoes: killer Thanksgiving staple.Maple Pecan Scones: get this, already made them three times.Cinnamon Rolls: yum.Migas: delectable, eggy nachos. I know, right?Egg in the Hole: something I've made before, but the extra butter does make it better. Like two days in row better.And I've only had the book for two weeks. In short, Drummond's pithy writing style and remarkable large-scale photography make this book almost as much a coffee table item as a kitchen resource. If you like having cookbooks you can rely on with unfussy authors you'd ask over for lunch, pick up The Pioneer Woman Cooks. You won't be disappointed, especially if you like butter as much as I do.
Review by Oreillynsf
16/06/2015
Ree Drummond is amazing. As a storyteller, cook, photographer, and it appears wife and mother. If you've never checked out her Pioneer Woman blog, you owe it to yourself to give it a click. And if you like what you see, you will love this cookbook, which combines her passions for food, family and fotos in a marvelous compendium that is as much story as collection of recipes. .
Review by ehaberlin
16/06/2015
I adore her recipes. They are all delicious, but they're deadly. Save her food for a special occasion. It's rich, delicious, and calorific.This book is beautifully put together and entertains as well as informs.