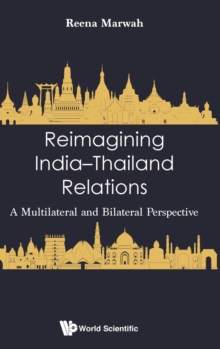 Reimagining India-thailand Relations: A Multilateral And Bilateral Perspective
Hardback
Description
This book brings into focus India's relations with ASEAN and Thailand in particular. In the 1990s, India revived its relations with Southeast Asia.
Yet, in comparison to China, India continued to be a distant neighbour.
Hence, India has once again, through its 'Look and Act East' policies become intertwined with its immediate neighbours in the East, especially with Thailand.
The objective of the book is to contextualise India's relations and influence in Southeast Asia over a period of nearly two thousand years, through culture and religion.
The scope of the book extends beyond bilateral issues to include the multilateral, bringing in issues of trade negotiations under the Regional Comprehensive Economic Partnership (RCEP) and the Indo-Pacific construct.
As ASEAN's importance grows in the regional and global landscape, there are ramifications for its relations with its traditional partners.
The volatility and suspicion among the major powers, especially USA and China harbour the potential to disunite ASEAN.
A rising India seeks a united and strong ASEAN both as a natural partner and in a bid to balance China's growing assertiveness and deep pockets.
Based on interviews conducted with experts , diplomats and scholars in the field, this book encompasses a wide range of aspects that pertain to the historical, cultural, economic and strategic international relations of ASEAN and Thailand with India.
Information
Format: Hardback
Pages: 320 pages
Publisher: World Scientific Publishing Co Pte Ltd
Publication Date: 03/04/2020
Category: International economics
ISBN: 9789811212031