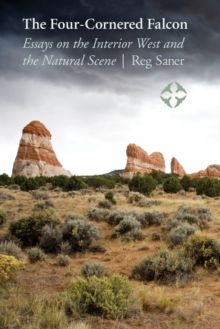 The Four-Cornered Falcon : Essays on the Interior West and the Natural Scene
Paperback / softback
Description
The western United States is a region of open space that has profoundly shaped the American character.
In The Four-Cornered Falcon, Reg Saner explores places that can still transform the human spirit with almost sacred power and describes journeys-both physical and spiritual-to areas of the interior West as remote as they are beautiful.
He explores northern New Mexico's Pajarito Plateau, home to the ancient Anasazi culture and the weapons laboratories of Los Alamos.
He recalls a long night spent in Chaco Canyon, alone and frightened after sustaining a serious rock-climbing injury.
He tells of encounters with magpies and coyotes, botanists and wildlife officials. And he looks down on the multiplying lights of Boulder and realizes that the West he has long known cannot escape being blighted by growth. Saner draws on a lifetime of hiking, climbing, and skiing in the backcountry of Colorado, Utah, New Mexico, and Arizona, but the themes and experiences he explores are the opposite of regional.
Like the falcons of the title essay-like humans themselves-Saner's essays are "four-cornered," not simply for their connection to those famous intersecting borders but because they range so widely over space and time.
Free Home Delivery
on all orders
Pick up orders
from local bookshops