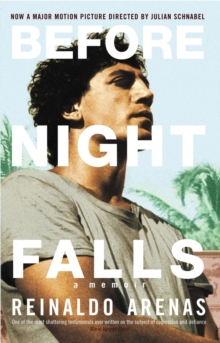 Before Night Falls
Paperback
Description
This shocking memoir by the Cuban writer Reinaldo Arenas is a book about sexual, political and artistic freedom. In Before Night Falls, Arenas recounts his journey from a poverty-stricken childhood in rural Cuba to his death in New York four decades later.
He tells of his odyssey from young rebel fighting for the Revolution, through his suppression as a writer, his disillusionment with Castro, his imprisonment and torture, to his eventual flight from Cuba.
Now a feature film starring Javier Bardem and Johnny Depp, Before Night Falls is a stunning testament to an individual?s urge to create against all odds.
Information
Format: Paperback
Pages: 288 pages
Publisher: Profile Books Ltd
Publication Date: 15/06/2001
ISBN: 9781852428082
Free Home Delivery
on all orders
Pick up orders
from local bookshops
Reviews
Showing 1 - 1 of 1 reviews.
Review by anoceandrowning
16/06/2015
I had no prior knowledge of Cuba when I started this book. Having finished it, I'm not really sure what the quality of my education on the subject has been.Arenas paints a rather bleak picture of his native land. He describes life under Batista as unbearable and then under Castro as even more horrific. He talks of prisons, concentration camps, and slave labor. If what he says is true, he thoroughly exposes the inhumanity of the Cuban government.I was surprised that nothing on the book- not the blurbs or the plot summary- mentions Arenas's homosexuality, as it plays more than a small role in his memoir. His sexuality was very interesting. He claims to have had sex with virtually every man on the island. From writers to police officers to prisoners- it seems everyone wanted a little. I will certainly never be comfortable walking into a Cuban public restroom.I don't know how reliable Arenas is. Based upon his testimony, it seems that it would be hard to walk ten feet down a sidewalk in Cuba and not see sodomy in action. I find that hard to believe. It's possible, I suppose, but if homosexuality is illegal in the country, it seems to me that people would try to be a bit more discreet about it. He also describes nearly every man he comes across as homosexual, whether they display any of the characteristics or not. I think the guy might be channeling Freud, as he seems to attribute all weaknesses of character to latent homosexual longings.Since I have issues with his claims on that front, it calls into question everything else he talks about. He's a name dropper, that's for sure. However, none of the names mean anything at all to me. He spent some significant time in prison and, though I don't doubt for a second that the experience was profoundly unpleasant, I don't know if I believe the parts about the bloodthirsty queens cross-dressing and shanking one another.I need to know more about Cuba. Whether Arenas is embellishing or not, he has piqued my interest. I want to know more about Batista, Castro, and the literature out of Cuba. I also want to read at least one of Arenas's novels.