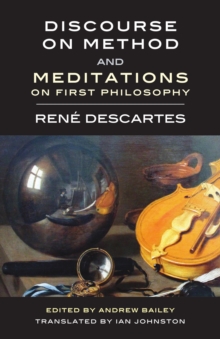 Discourse on Method and Meditations on First Philosophy
Paperback / softback
Description
This volume provides new translations of Rene Descartes's two most important philosophical works.
The Discourse offers a concise presentation and defense of Descartes' method of intellectual inquiry - a method that greatly influenced both philosophical and scientific reasoning in the early modern world.
Considered a foundational text in modern philosophy, the Meditations presents numerous powerful arguments that to this day influence debates in epistemology, the philosophy of mind, and the philosophy of religion.
Descartes's timeless writing strikes an uncommon balance of novelty and familiarity, offering arguments concerning knowledge, science, and metaphysics (including the famous 'I think, therefore I am') that are as compelling in the 21st century as they were in the 17th.
Ian Johnston's translations are modern, clear, and thoroughly annotated, ideal for readers unfamiliar with Descartes's intellectual context.
An approachable introduction engages both the historical and the philosophical aspects of the text, helping the reader to understand the concepts and arguments contained therein.
Information
Format:Paperback / softback
Pages:160 pages
Publisher:Broadview Press Ltd
Publication Date:30/10/2020
Category:
ISBN:9781554815548
Other Formats
eAudiobook MP3 from £14.24
Paperback / softback from £5.99
Hardback from £25.45