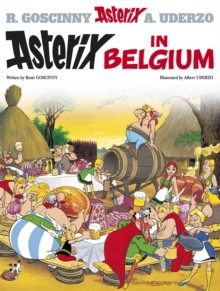 Asterix: Asterix in Belgium : Album 24
Paperback
Part of the Asterix series
Description
Who are bravest, the Belgian tribes or the Gauls? And who can destroy more fortified Roman camps? When the contest ends in a draw, and Julius Caesar is asked to adjudicate, he goes into action against both Gauls and Belgians.
They unite against him, inventing fish and chips along the way.
But will Caesar meet his Waterloo?
Information
Format: Paperback
Pages: 48 pages, 48 Illustrations, unspecified
Publisher: Hachette Children's Group
Publication Date: 17/02/2005
Category: Comic strip fiction / graphic novels
ISBN: 9780752866505
Free Home Delivery
on all orders
Pick up orders
from local bookshops
Reviews
Showing 1 - 2 of 2 reviews.
Review by theboylatham
16/06/2015
Seven out of ten. CBR format.
When Caesar calls the Belgian people the bravest he knows, the Gauls travel to confront the Belgians and prove who really is bravest.
Review by scuzzy
16/06/2015
Thanks Karen for lending me this.The second ever Asterix story I ever had been this one and when my eldest found it at friends and showed me I had to read it again. And like those years ago, I thoroughly, thoroughly loved it. In fact, right now, I cannot think of one I like(d) more.This is the 24th volume (1980) of the series and follows Chief Vitalstatistix, Asterix, Obelix and little Dogmatix as they enter Belgium in an effort to find out why Caesar has called the Belgians the bravest people on the world instead of our heroes (although in reading almost the whole lot, I would have thought the Normans were).Anyway, off topic somewhat...so as they meet with the chiefs a wager is made and the two villages went on the rampage destroying all things Roman in their path in an effort to prove their bravado to Caesar himself, and when he comes to find out what the hell is going on he brings a force with him to crush the uprising once and for all...and the rest, well you can guess.There's always hotties in the villages...where does she rank next to Geriatrix's wife?In this one the usual plethora of humourous names is lacking somewhat but there are some gems as usual; Wolfgangamadeus the Roman Legate, Saintlouisblus a Roman soldier, Melancholix, Alcoholix, and Potbellix Belgian warriors, and the chief's wife Bonanza.FYI...Halfway through this volume Goscinny died - the point in time in the actual book can be seen as the sky turns darker and there is rain for the remainder of the story.There is reference to some of Belgium's famous meals - Brussels Sprouts, mussels, and of course French Fries (which were invented in this book).Murray Mexted and his twin make an appearanceThompson and Thompson (of Tintin fame) appear. They are of course Belgian (and in fact the same font from Tintin is used when they speak).The Manneken Pis also makes an appearance.