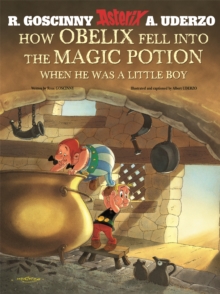 Asterix: How Obelix Fell into the Magic Potion
Hardback
Part of the Asterix series
Description
The truth at last! The world had to know the answer to the mystery that has been keeping it on the edge of its seat for more than two thousand years.
We all know that Obelix fell into the cauldron of magic potion when he was a little be ('We'll never hear the last of it!' as he often says) but we've never known how.Well, the time has come...And, given his involvement in this dark affair, we have asked Asterix to tell you everything.So, fiat lux!
Free Home Delivery
on all orders
Pick up orders
from local bookshops
Reviews
Showing 1 - 2 of 2 reviews.
Review by theboylatham
16/06/2015
Five out of ten. CBR format.
Explains exactly how Obelix derived his amazing strength.
Review by scuzzy
16/06/2015
For those who have read an Asterix book or two will be well aware that his more ample mate, Obelix, possesses super-strength that does not require a sip or two of the magic potion made up by the village's in-house chemist (meth lab?) Getafix. It is referred to on many an occassion how Obelix fell into the potion when he was a child, but now you get the actual story.In a move away from the traditional cartoon panel layout, this story follows a story book with illustrations. It is narrated by Asterix and is set in a time when they may have been about five years old.We get to see many of the other villagers we know and love at this age; Fulliautomatix, Cacofonix, and Unhygenix amongst others. We also see Chief Vitalstatistix, who is chief in this, but is younger and slimmer. We also meet the parents of both Asterix and Obelix.Not laced with the normal humour/punning we are used to in Asterix volumes, and for a story it is also very short, and the end was shut off very quickly which was a disappointment. But still, as a historical record every bit as important as any other in Gaul, it makes a subtly pleasant change...although I wouldn't be too quick to read another in similar format...cartoons and prose just do not mix!