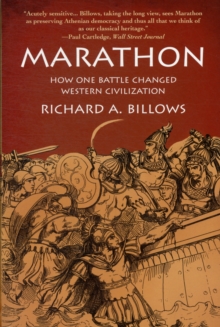 Marathon : The Battle That Changed Western Civilisation
Paperback
Description
The Battle of Marathon in 490 B.C. is not only understood as the most decisive event in the struggle between the Greeks and the Persians, but can also be seen as perhaps the most significant moment in our collective history.
Ten thousand Athenian citizens faced a Persian military force of more than 25,000.
Greek victory appeared impossible, but the men of Athens were tenacious and the Persians were defeated.
Following the battle, the Athenian hoplite army ran 26.5 miles from Marathon to Athens to defend their port from the Persian navy.
The Athenians won the battle and drove the Persian forces from Attica.
Greek freedom ensued and the achievements of the culture became much of the basis for Western Civilisation.
In his comprehensive and engrossing treatment, Richard Billows captures the drama of that day 2,500 years ago and the ramifications it has had throughout Western history.
Information
Format: Paperback
Pages: 304 pages
Publisher: Duckworth Overlook
Publication Date: 01/10/2011
Category: European history
ISBN: 9780715641415
Free Home Delivery
on all orders
Pick up orders
from local bookshops