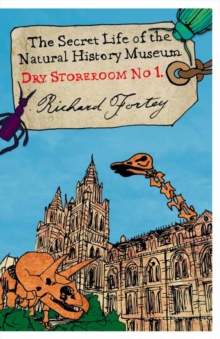 Dry Store Room No. 1 : The Secret Life of the Natural History Museum
Paperback
Description
`Dry Store Room No. 1' is an intimate biography of the Natural History Museum, celebrating the eccentric personalities who have peopled it and capturing the wonders of scientific endeavour, academic rigour and imagination. Behind the public facade of any great museum there lies a secret domain: one of unseen galleries, locked doors, priceless specimens and hidden lives.Through the stories of the numerous eccentric individuals whose long careers have left their mark on the study of evolutionary science, Richard Fortey, former senior paleaontologist at London's Natural History Museum, celebrates the pioneering work of the Museum from its inception to the present day.
He delves into the feuds, affairs, scandals and skulduggery that have punctuated its long history, and formed a backdrop to extraordinary scientific endeavour from Darwin to the present day.
He explores the staying power and adaptability of the Museum as it responds to changes wrought by advances in technology and molecular biology - 'spare' bones from an extinct giant bird suddenly become cutting-edge science with the new knowledge that DNA can be extracted from them, and ancient fish are tested with the latest equipment that is able to measure rises in pollution. 'Dry Store Room No.1' is a fascinating and affectionate account of a hidden world of untold treasures, where every fragment tells a story about time past, by a scientist who combines rigorous professional learning with a gift for prose that sparkles with wit and literary sensibility.
Information
Format: Paperback
Pages: 320 pages
Publisher: HarperCollins Publishers
Publication Date: 01/09/2008
Category: Museums & museology
ISBN: 9780007209897
Free Home Delivery
on all orders
Pick up orders
from local bookshops
Reviews
Showing 1 - 5 of 7 reviews.
Previous | Next
Review by CatyM
16/06/2015
This an an absolutely fascinating look behind the scenes of the Natural History Museum. Fortey's erudite and humorous descriptions are wonderfully entertaining - irrespective of whether he is writing about people, expeditions or the strange habits of small and revolting creatures. As we're led through the labyrinthine recesses of the NHM, we're taken on a delightful journey through taxonomy, palaeontology, biology, botany, entomology, mineralogy - and any number of other ologies which were <i>never</i> this interesting at school. The discussion of museum politics is intriguing, and that of the crisis in funding is informative; the scientific content is engrossing, as is the information about the remarkable people who undertook the work.(A word of advice, though - probably best to avoid reading the opening pages of the chapter on insects while eating lunch.)
Review by Bowerbirds-Library
16/06/2015
I have loved the Natural History Museum since the first time I saw it, the grand main hall and numerous galleries have always been a delight to wander through. Now having read Richard Fortey's book, I feel as if I have had a personal tour of the life behind the scenes. The book is a mixture of the history, science, politics of the museum all mixed up with fascinating anecdotes about a number of the people who have worked (I could almost say lived!) there. Some of the details and even the captions to accompany the images will have you laughing out loud - the curator who tried on a diving suit after hours, couldn't get out of it and had to walk out of the building and down the road to try and get a passer-by to help him or Fortey's own personal belief that the scientists begin to look like the creatures that they study. The key point to this book is that it is Richard Fortey's personal account or as he states in the opening chapter 'This book is my own store room, a personal archive' and so it may not feature enough science for some or too much for others. It does in my opinion leave you wanting to know more, as if the official tour of the building ended and then you could take the author to a nearby pub, buy him a couple of pints and find out a bit more about what did go on in the Dry Store Room No:1...If you are interested in museums, natural history or simply about the lives and loves of dedicated people this book is for you.
Review by WomblingStar
16/06/2015
This book is really interesting and a fascinating read. It shows the behind the scenes work of an amazing place and introduces the reader into the work of a researcher and the people past and present at the museum. It reads very easily and a non-scientist would be able to understand and enjoy the book. It really increases my love for museums and I would love to visit the museum after reading this. It also introduces the reader into the important work of identifying all the species in the world and the relevance it has to modern life.
Review by FioLynn
16/06/2015
This wasn't my favourite book by my favourite science author, Richard Fortey, although I enjoyed it very much. It was a fascinating look behind the scenes of the museum and a timely reminder of how important it is to understand even the smallest inhabitants of the natural world. I know there were a lot of subjects to cover but I did find the constant switching to a new topic a bit distracting. This is a good entertaining read, but not as good as 'The hidden landscape' or 'Trilobite'.
Review by reading_fox
16/06/2015
Rambling - just a like a visit to a good museum ought to be.Richard Fortey the author joined the prestigious British Museum (Natural History) in 1970 as a researcher in the Trilobite department. This is his memoir of his time there, a few people and a few incidents from 40 years of working behind the scenes at a Museum. Although hardly a comprehensive account it does serve to highlight a lot of work that very few people would otherwise get to know about. I'm not sure if he had any other aims in writing, and if so it's hard to tell if he accomplished them, perhaps a vague plea for continued funding for this, one of the most basic levels of science. Fortey and colleagues work as taxonomists - the giving of official names and hence recognition to species. Only once a species has been described can the basic biology go ahead to find out more about it, for without a species description you could end up following two completely different creatures, thinking they were the same. Richard tries to explain some of these fundamentals of biology (and mineralogy and anthropology) in language which sometimes gets somewhat dense. However the tone is frequently lightened by anecdotes of the members involved which helps quite a bit. It is very much a description of how science used to be done, and fascinating at that, but bears little resemblance to the more modern genetic sequencing work that is so prevalent these days. Fortey does refer to this, but the reader comes away with the impression that Fortey never really understood it while he formally worked there, and now that he's retired and informally working there, he still doesn't understand it, and what's more doesn't approve of it either.Downsides: Some of the science is pretty complicated - but then life's like that. A handy reference for the differences between genera, genus, species and family would have been very useful - especially when they occur on their own. The division between curator and scientist is also never explained, although oft alluded to. Many of the anecdotes predate Fortey's own arrival into the Museum, let alone individuals who might still be around. It does lend the book a vaguely ancient air, as if it's still an academic ivory tower. Perhaps the most surprising omission is a lack of any mention of the Science museum. The move into their current premises is covered in detail, and there is now a big public bridge into the adjoining museum, however it appears that no staff ever crossed this gaping divide. At times really very funny - slightly Bryson-ish in the focus on people rather than science. It does illuminate what went on behind the closed doors the public never saw, but there have been many changes since the majority of the tales. Some previous biological knowledge will be very helpful in reading this.Little mention is made of the actual dry storeroom No. 1: it was (apparently) a trysting place!